Houston Style Magazine's Big Night: Do You Have Your Ticket Yet?
Francis Page Jr. | 9/4/2014, 6:42 p.m. | Updated on 9/4/2014, 6:42 p.m.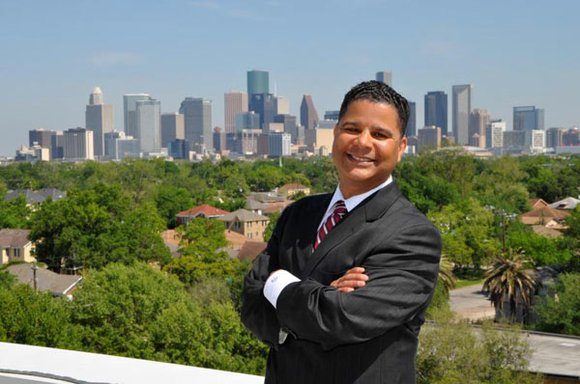 SOLD OUT! You now have less than 30 days to avoid reading or hearing those unfortunate words being spoken to you regarding Houston Style Magazine's swiftly approaching 25th Anniversary Gala Reception on October 3, 2014 being held at the gorgeous Del Frisco's Steakhouse - Galleria. If you are interested in rubbing shoulders with some of most outstanding business leaders and elite Houstonians for one enchanted evening, get your tickets today. Houston Rocket's All-Star center Dwight Howard will be there, but his shoulders might be too broad and way too high to rub against, but if you attend, you can try.

Nicole Murphy, co-founder of Destiny Moscato and executive producer of the mega-hit Television series, 'Hollywood Exes', has circled Houston Style Magazine's October 3rd extravaganza on her busy calendar. Humanitarian Ndaba Mandela, the grandson of former South Africa President Nelson Mandela, will be our keynote speaker for the evening.
Internationally recognized author and educator Erik Cork will host our sensational Gala. He has faithfully served as one of many outstanding contributing Houston Style writers since the very beginning.
Since 1989, I have had the front row privilege of witnessing Houston Style Magazine's continuous progress as one of the premier urban weekly newspapers in America. The president of the National Newspaper Publishers Association (NNPA), Mr. Cloves Campbell, is attending to confirm this fact. Local Houston legend, Kijana Wiseman, will also grace us with her presence, as she is also scheduled to perform, along with other surprise guests.
Tony Wyllie, Ndaba Mandela, Dwight Howard, Macy's, H-E-B, Walmart, GM, and Wells Fargo will be recognized as our 2014 award honorees.
As I have promised in our previous issues leading up to our Grand Gala, I will continue to reveal some of Houston Style Magazine's best-kept secrets. Last week, I told the story of how our publication was honored by being one of the first newspapers invited to the White House to visit with newly elected President Barack Obama in 2008.

Here's another little-known fact. Beyonce', one of the world's most universally worshipped and influential artists of all-time, sat down with Houston Style Magazine to give one of her very first exclusive interviews when she was just a pre-teen in a local Houston group called GirlsTyme. Soon afterwards, they changed their name to Destiny's Child. Erik Cork was in Matthew Knowles' makeshift garage studio representing Houston Style Magazine, as Houston Style Magazine was given an exclusive preview of the original version of No, No, No. That very night in New York, Beyonce Knowles and the lovely young members of Destiny's Child were recording the famous re-mix with the iconic producer, Wyclef Jean. Most music historians credit that magical collaboration as the catalyst and breakthrough moment Destiny's Child was propelled into superstardom. Houston Style Magazine was on the scene to document the moment when their flame of worldwide fame was first ignited.
Next week, be sure to log on, tweet and re-post to your Facebook pages the secret behind-the-scene details of how Houston Style Magazine was responsible for delaying Oprah Winfrey's private jet during one of her visits to Houston.
Keep StyleMagazine.com as one of your easy-to-access favorites on your computer task bar so you can obtain tickets to our dazzling gala as early as possible. I strongly urge you to make plans now to attend because we are over-the-moon making preparations to bring you an amazing, star-studded, celebrity-drenched night of networking, fireworks and making new friends. In the meantime, join in the #Style25 fun on Twitter and Instagram, then like us on Facebook. Until next week, let's keep in touch.
Get your tickets today http://stylemagazine.com/style25/