Joan Rivers Dies at age 81
Alan Duke | 9/4/2014, 2:54 p.m.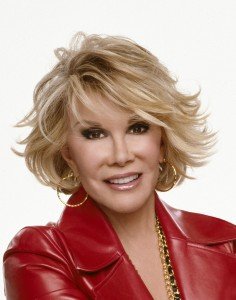 CNN
(CNN) -- Comedian Joan Rivers died in a New York hospital Thursday afternoon, a week after suffering cardiac arrest during a medical procedure, her daughter said.
"She passed peacefully at 1:17 p.m. surrounded by family and close friends," Melissa Rivers said in a written statement.
Rivers, 81, had been on life support at Manhattan's Mount Sinai hospital, where she was taken after she stopped breathing at the Yorkville Endoscopy clinic last Thursday.
The outpatient clinic is now being investigated by the New York State Department of Health, spokesman James O'Hara said.
"My son and I would like to thank the doctors, nurses, and staff of Mount Sinai Hospital for the amazing care they provided for my mother," her daughter said. "Cooper and I have found ourselves humbled by the outpouring of love, support, and prayers we have received from around the world. They have been heard and appreciated.'
Rivers was undergoing an apparently minor elective procedure at the clinic when she suffered cardiac and respiratory arrest, according to the New York Fire Department.
Paramedics took her by ambulance to Mount Sinai Hospital, about a mile from the clinic, where she was intially listed in critical condition.
The Rivers family made very little information about her medical condition public, finally confirming Tuesday that she was on life support.
CNN's Joan Yeam contributed to this report.
For more information, visit cnn.com