New Gameday Eats Come to NRG Stadium for Texans Fans
New Menu Items Comes to NRG Stadium for Houston Texans Gamedays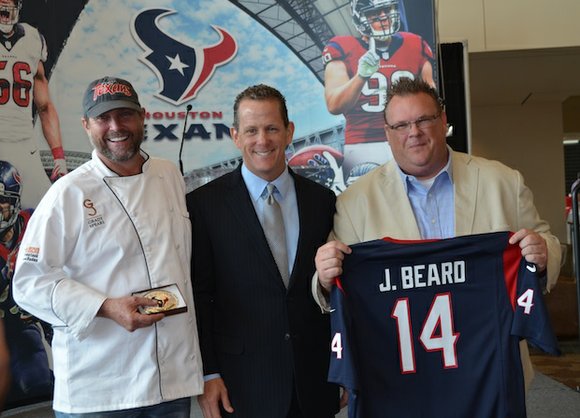 Houston Texans fans better make sure they bring their appetites and their wallets on Houston Texans gamedays. Houston Texans and Aramark are making the ultimate fan experience even better. They have revamped the concessions menu giving fans a break from the traditional with 5-star cuisine that is unique as it is scrumptious.

Jamey Rootes, President of the Houston Texans, said that fans would have the opportunity to experience over 50 separate gameday innovations this season. One of the biggest is the partnership with award-wining Chef Grady Spears and James Beard Award recipient Chef Chris Shepherd.
Chef Spears brings the Grady's Carvery with specialty sandwiches that are hand carved. I tried the "No Null" Texans Chicken Stack. It is hard to say what was the bigger star on the sandwich. It was a three-way tie between the moist carved Hill Country smoked turkey, light and soft Sheila Parton jalapeno roll and the tangy cranberry mayo. It all made for one terrific sandwich.
By far one of the most interesting new dishes comes from Chef Shepherd. His restaurant called Hay Merchant features PB&J Wings and Tater Tots. Wait before you squirm in disgust. This is something that has to be tasted because it is surprisingly really good. The funny thing about it is that the peanut butter flavor is not overpowering. Plus the wings are not as sticky as I thought and the peanut butter doesn't stick to the roof of your mouth. I think the dish is genius and a good twist on two traditional favorites.

Chef Shepherd also brings the Underbelly to showcase the Texans Two Step. Fans can get a jalapeno cheddar dog topped with Korean braised beef topped with bacon jalapeno jelly. On the side is a dish that really could be a star on its own, tater tot casserole. One bite and you'll melt. It turns the common tater tot into a gourmet entrée.
If you try to be a health nut like me at times then you will want to venture to the Club Level to eat. There your stomach rumbles will be silenced by the taste of taco salad, kickin' chicken salad, or made to order salad from Green Fork Express. If you are really hungry my first choice would be the taco salad. You get a lot of bang for your buck. The huge taco shell is filled with chicken, beef, or pork and topped with the traditional salad fixings plus sour cream, guacamole, salsa and a lime. If you like things a little hot in the kitchen, fill up on the kickin' chicken salad and make sure to have water close by. The heat of this salad can sneak up on you if you eat a lot of lettuce with each bite. Also adding cilantro ranch as your dressing of choice kicks up the heat of this salad even more.
Bernie's Bus is still at NRG with their Substitute Burger. I don't know what it is substituting but it is certainly not flavor. I wanted more and more after the first bite. Although all the ingredients of this burger are really good, I think the bun is what sets the tone. It is absolute awesome. The flavors of the meat, blue cheese, crispy bacon, burgundy laced mushrooms, and "tipsy caramelized onions melt into the lightly buttered toasted bun. I literally took the top of my bun off to eat the bread by itself. So so good!
The Goode Company is one of four Houston restaurants making its debut at NRG Stadium this year. On their rooster are mesquite-smoked turkey breast, Czech style sausage, and mesquite-smoked brisket served with sides of beans and potato salad. What became one of my favorites of the day was their Seafood Campechana. It is a Mexican cocktail with huge Gulf shrimp and lots of crab and avocado salsa Campeche. Words can't describe how good this dish is. Love it. Berryhill Baja Catina, Menchies Frozen Yogurt, and Benghis Grill's also are new to NRG Stadium for the 2014-2015 season.
Top all these good eats off with a bit of dessert by heading on over to Menchies Frozen Yogurt. I tried the Take the Cake Batter swirled with Dream of Cookies & Cream. They are great separate or swirled. It is a wonderful refreshing treat with not a lot of guilt.
Let me tell you I was so stuffed by the time I left NRG after trying all the new menu items it was ridiculous. My advice is to pace yourself this football season in the food court but do indeed try everything.
Happy eating!
For more information, visit houstontexans.com or aramark.com.