Project GRAD AmeriCorps Members set to Participate in local AmeriCorps swearing-in Sept. 12 to unite in nationwide celebration of AmeriCorps 20th anniversary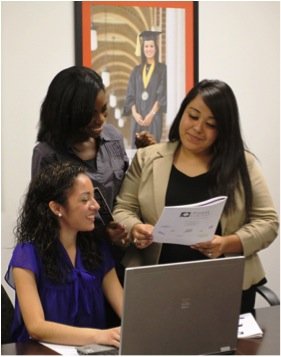 Harris County Department of Education's CASE for Kids hosts a local swearing-in ceremony 9:30-11:30 a.m. on Sept. 12 at 6300 Irvington to welcome 2014-2015 Houston-area AmeriCorps members. The ceremony celebrates members from Project GRAD Houston along with Houston Center for Literacy, CASE for Kids and other area AmeriCorps programs. Members will pledge to "get things done for America" as part of simultaneous statewide and nationwide ceremonies to mark AmeriCorps' 20th anniversary. The Houston AmeriCorps Alum Chapter will also support the event.
"Project GRAD's AmeriCorps members inspire us every day with their energy and commitment to helping Houston's youth achieve their college and career dreams. My own AmeriCorps experience was the foundation for my career in education, and I am thrilled every year to see another cohort of AmeriCorps members grow through service to our communities," said Anne Sung, Chief Strategy Officer for Project GRAD Houston.
The event at Harris County Department of Education takes place in tandem with a statewide event based in Austin, Texas and hosted by OneStar Foundation that features prominent spokespeople. Speakers include Mark Updegrove (LBJ Presidential Library director); Randi Shade (founding executive director, Texas Commission on Volunteering & Community Service/former Austin City Council member); Rosie Mauk (former director of AmeriCorps); and video messages from champions such as Dan Rather, Neil Bush and Gov. Rick Perry.
Both events will be held simultaneously alongside a nationwide AmeriCorps event led by President Obama. Obama will give remarks to AmeriCorps members at the White House, which will be live-streamed by the Corporation for National and Community Service in Washington, D.C. The event celebrates 20 years of inspiring Americans to be involved in what is the country's best example of civic engagement, collaboration and problem solving. Additional pledge ceremonies will also be taking place simultaneously from coast to coast, launching a new service year for 75,000 AmeriCorps members.
"Here at OneStar Foundation, we are so proud of the 4,500 AmeriCorps members serving across the State of Texas this year through AmeriCorps State and National, Volunteers In Service to America (VISTA), and National Civilian Community Corps (NCCC)," said Elizabeth Darling, president and CEO of OneStar Foundation. "The good that these AmeriCorps members do for their communities exceeds 2.5 million hours of service per year, and we're looking forward to swearing in this new class of AmeriCorps members as they take the AmeriCorps Pledge to embark on their year of service."
AmeriCorps' Role in Texas Since 1994, more than 46,265 Texas residents have served in AmeriCorps, providing more than 61,114,400 hours of service. They have earned education scholarships totaling more than $129,885,900 to help pay for college or pay back student loans.
Whether through mentoring students so they can stay on grade level or helping young people gain access to post-secondary education, AmeriCorps members have made a difference in the lives of Texas youth. AmeriCorps is making a significant contribution to Texans' quality of life.
"During my AmeriCorps member service year, I was able to educate and empower first generation students and their families to navigate through the college process. Sharing my own personal experience helped students realize that attending college was possible," says Arlette Rangel, former Project GRAD AmeriCorps Member.