AboutThatCar.Com: 2015 Lexus NX Crossover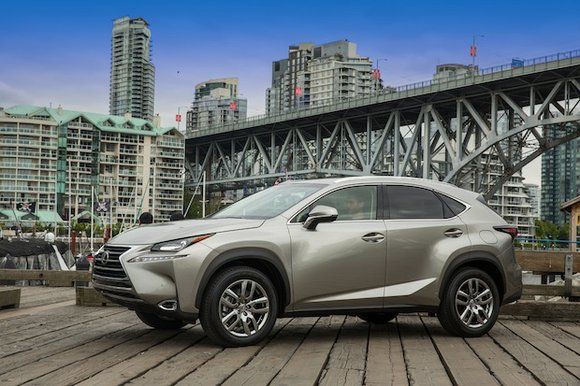 Mileage numbers for the gasoline engine had not been finalized at the time of the press introduction but Lexus expected mileage to be around 24 mpg combine. It was the same thing for pricing, it had not been finalized. But we were told that prices will start at less than $40,000.
We don't know if the NX is the first but it is one of the view hybrids with an AWD version. The NX 300h's two electric motors will be used to turn the rear wheels when AWD is needed.
Like both AWD versions of the gasoline engine powered NX, the hybrid AWD will be 100 percent front-wheel drive under normal driving conditions. But both systems will be capable of sending 50 percent of their torque to the rear wheels when needed. Both can also be locked into AWD mode and stay there up to 25 mph.
The Lexus NX 200t was pretty good. Handling was precise, the suspension was firm and the vehicle's engine seemed to be a little quieter than then F Sport under hard acceleration but it was the same engine.
We did try the sport setting on the ride mode selector and the Lexus NX seemed to get a little tighter; it was probably that throttle response got quicker and the power steering assist stiffened. All the versions of the 2015 Lexus NX are viable entrants into the segment.
The yellow warning light is that Lexus would be ill advised to expect consumers to buy the NX simply because it is a Lexus. It has set a lofty sales number but direct competitors have excellent entrants in the compact luxury crossover segment.
In other words, Lexus will have to advertise and market the 2015 Lexus NX aggressively. They've got a good product but they will need to put the advertising and market dollars behind it to hit their sales goal.
Frank S. Washington is editor of AboutThatCar.com