Best Oyster Bars in America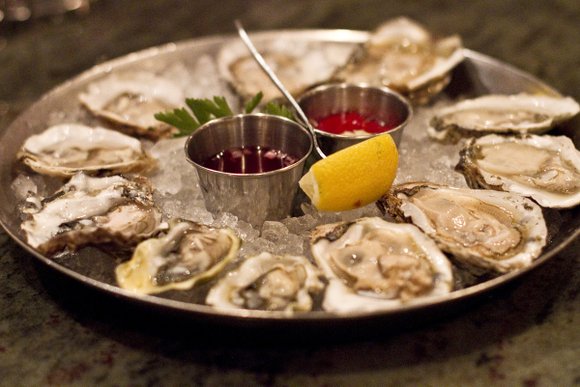 By Meredith Bethune
At Portland's Eventide Oyster Co., stakes in the ice declare whether the half shells are "from Maine" or "away." It's a sign of local pride---and the importance of place when tasting oysters.
Like a fine wine exhibits its terroir, an oyster's merroir imparts a distinct flavor, from the briny Blue Points of Long Island to snappy Kumamotos of the Pacific Northwest to the bright Malpeques of Prince Edward Island.
"Everyone has their preference, as oysters take on the characteristics of the area in which they grow," says Candace Beattie of Baltimore's Thames Street Oyster House. Its specialty? Mellow Chesapeake oysters, from medium-bodied to plump.
While it's possible to ship the bivalves across the country, there's nothing better than tasting them freshly plucked from the water. Seafood lovers can safely get their oyster fix during months that don't end in "r" thanks to modern refrigeration. But storied family-run joints like Casamento's in New Orleans still close during the warmest months. (Spawning summer oysters are usually less flavorful than their winter counterparts.)
Oyster bars and street carts were popularized in the 19th century, when the mollusks grew in abundance and were considered an everyday food. You'll find that kind of casual vibe at southern spots like the Original Oyster House in Mobile, Alabama, and at a growing number of waterfront bars connected to oyster farms.
But our cross-country survey also turned up restaurants that take a more stylish approach. You could spend a romantic evening slurping bivalves at Seattle's bistro-like the Walrus and the Carpenter. Oysters are a natural aphrodisiac, and these bars are sure to tickle your fancy.
Hog Island Oyster Company: San Francisco, California
Located inside the Ferry Building, this airy, recently expanded oyster bar provides sweeping waterfront views of the Bay Bridge along with the company's fresh shellfish pulled from nearby Tomales Bay. Chef Christopher Laramie's menu features sustainably raised seafood like steamed Manila clams or semolina-dusted crispy smelts. Much of the produce is grown near the oyster farm.
Casamento's Restaurant: New Orleans, Louisiana
It's hard to say what diners first notice upon entering this Uptown landmark---the signature green and white tiles or the shucker working his way through piles of Louisiana Gulf oysters. Joe Casamento, an Italian immigrant, opened the place in 1919. "The restaurant itself hasn't changed hardly at all since then," insists his grandson CJ Gerdes, the current owner. Gerdes, who started working at Casamento's at age 14, still considers its ruddy seafood gumbo a new menu item, even though it was added more than 20 years ago. A more classic dish: the oyster loaf, which combines bivalves, dredged in corn flour and fried, with buttered pan bread and pickles.
The Ordinary: Charleston, South Carolina
Chef Mike Lata focuses on East Coast oysters with a sprinkling of choices from the West Coast at this former bank building turned sleek seafood hall. "We have several oysters that we can get locally and two within an arm's reach," he explains, "and I like to serve them side by side to highlight their differences." Wild Caper's Blades oysters from South Carolina are available at the white tiled raw bar; pickled shrimp or poached razor clams, served cold with an apple cilantro and jalapeño sauce, are another menu favorite.