Second Annual Ready Houston Preparedness Kit Chef's Challenge
Celebrity Chefs Compete Using Only Canned and Shelf-Stable Ingredients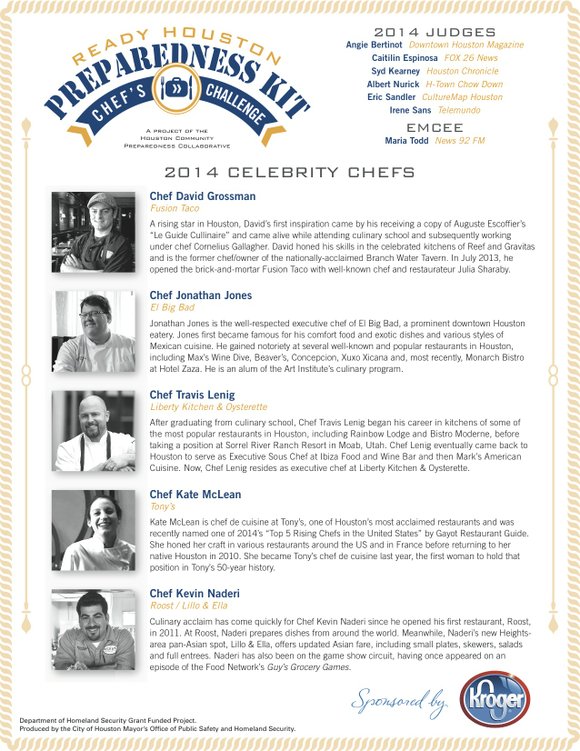 WHO: The City of Houston Mayor's Office of Public Safety and Homeland Security and the Houston Community Preparedness Collaborative (HCPC) are set to host the second-annual community event to coincide with National Preparedness Month. The event will feature a cooking competition with some of the top Houston celebrity chefs including:
David Grossman – Fusion Taco
Jonathan Jones – El Big Bad
Travis Lenig – Liberty Kitchen & Oysterette
Kate McLean – Tony's
Kevin Naderi – Roost/Lillo & Ella
Popular local food and culture columnists and chief meteorologists are set to judge the prepared dishes to help select Houston's Most Prepared Chef of 2014, and include:
Angie Bertinot – Downtown Houston Magazine
Caitilin Espinosa – FOX 26 News
Syd Kearney – Houston Chronicle
Albert Nurick – H-Town Chow Down
Eric Sandler – CultureMap Houston
Irene Sans – Univision
The emcee for the event will be Maria Todd of News 92 FM.
WHAT: The competition will focus on non-perishable food items to create excitement and awareness around the Ready Houston preparedness program and its key messages of: Make a Plan. Build a Kit. Stay Informed. Know Your Neighbors.
All dishes will be prepared on-site and cooked using gas or propane to simulate food prep during times of a disaster. Each chef will be provided with basic pantry items and cookware at their stations and must choose from a list of canned and shelf-stable ingredients, to be unveiled at the event. These ingredients are in the protein; fruits and vegetables; starches, grains and nuts; and comfort foods categories. Judges will select one winner based on taste, creativity and presentation, and will award the chef with a commemorative trophy for display in their restaurants.
In addition to the cook-off, there will be emergency response equipment on display, information on disaster preparedness available, and other giveaways.
The Ready Houston Preparedness Kit Chef's Challenge is a free event and open to the public.
WHEN: Saturday, September 20, 2014, at 11 a.m. – 12:30 p.m.
WHERE: Market Square Park – Downtown Houston 301 Milam St.
WHY: The City of Houston Mayor's Office of Public Safety and Homeland Security is dedicated to educating and reminding Houston-area residents about the "Ready Houston" program and the need to prepare for disasters. More information about Ready Houston is available at www.readyhoustontx.gov.