Ultimate First-Class Airline Offerings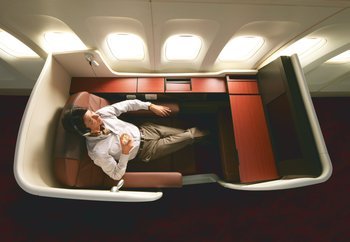 By Daisy Carrington
Sure, first class sounds swank, but when you're paying a premium of several thousand dollars a ticket, it can be hard to justify the added expense.
In an effort to really make it "worth it," airlines have started offering passengers everything from on-board apartments (yes, really) to post-boarding limo rentals and private jet access.
We've broken down the top first-class perks to see which carriers offer the best value.
Etihad
Come December, the Abu Dhabi-based airline is taking luxury a step further with the launch of Residence Class on its Airbus A380 and Boeing B787 Dreamliner aircraft.
Lie-flat seats?
So passe.
Wealthy customers can enjoy three-room apartments while in the air.
These suites -- clocking in at around $40,000 for a round-trip flight from Abu Dhabi to London -- will feature a private bedroom, a living room and en suite shower.
Passengers looking for a slightly scaled down experience can book a First Apartment -- a private suite with a full-length bed, separate reclining ottoman and access to a bathroom with shower.
All suites will come with a private minibar.
What really sells "The Residence" is the service.
Passengers will get their own Savoy Academy-trained butler, concierge, a chauffeur to get them to and from the airport and a private chef.
While guests can order off the a la carte menu, they can also request personalized dishes anytime.
Emirates
Emirates has announced similar plans to launch a private, on-board residence, though the details have yet to be released.
Still, the Dubai airline has long been at the forefront of in-flight luxury.
In 2008, Emirates was the first carrier to install first-class cabins with sliding doors for privacy on their Airbus A380s, A340-500s and on most Boeing 777s.
Cabins come with a personal minibar, adjustable lighting, private vanity table, mirror and wardrobe.
Guests can avail themselves of a 25-minute "shower spa" treatment (though actual shower time is limited to five minutes).
There's also turndown service, where cabin crew convert the seat into a bed with a real mattress.
And of course there's the award-winning food.
In first class, Emirates focuses on regional menus.
Passengers can expect items like Iranian caviar or stir-fried lobster in black bean sauce.
Air France
Passengers craving an extra level of comfort can book Air France's new La Premiere cabin.
These mini-suites -- available on the carrier's long-haul Boeing 777-300 aircraft -- feature lie-flat seats that adapt to each passenger's morphology, a 24-inch HD screen (one of the largest available on board), a private wardrobe and an adjustable privacy curtain.
There's a reclining ottoman, so guests from other parts of the cabin can visit.
Come nighttime, cabin crew will outfit the seat with a mattress and linens from the Sofitel range.
Air France has also teamed with an army of Michelin-rated chefs to design its new La Premiere menu. It features gourmet touches from Joël Robuchon, Régis Marcon, Guy Martin, Anne-Sophie Pic and Michel Roth.
Qantas