Sheryl Sandberg Stars in a Comic Book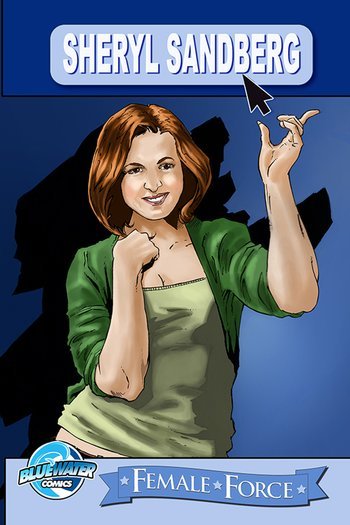 By Aaron Smith
NEW YORK - Facebook founder Mark Zuckerberg got his own movie. But Number Two exec Sheryl Sandberg is getting her own comic book.
Sandberg is now the star of a comic book about the empowerment of women and their uphill battle in the male-dominated business world.
The illustrated biography, called "Lean In," is published by Bluewater Productions. The story is told in first person and begins with Sandberg as a Harvard freshman in 1987, attending a speech by the male president "full of quotations from dead men I've never read. I felt like I was suffocating. I just wanted to get out."
The 32-page comic was written by Michael Frizell and illustrated by Angel Bernuy and is part of Bluewater's Female Force series, which has featured comic biographies of Hillary Clinton, Tina Fey, Michelle Obama, Mother Theresa and Melinda Gates.
Neither Facebook or Bluewater responded to whether the Facebook chief operating officer authorized the comic book and if the narrative is authentic.
The first few pages detail Sandberg's at Harvard and contain the following pearls of wisdom from her:
"Anything worth doing takes work. I want to tell any young girl out there who thinks she's a geek that it works out. Just study harder."
"There's no such thing as work-life balance. There's work, and there's life, and there's no balance."
"Men still run the world. As a business major, I recognized that, understood it sharply. If you ask men why they did a good job, they will say something like, 'I'm awesome, obviously.'"
Sandberg, who authored the book "Lean In" happens to work at a company that's 69% male.
The comic will be released this week.
Bluewater also has plans to release comic biographies on other business leaders in October, including Bill Gates, Steve Jobs, Sergey Brin, Larry Page and Sandberg's boss Mark Zuckerberg.
Sandberg's comic book will sell for $3.99, while Zuckerberg's will cost $10.99.
More at CNN.com