Style Fam, It's time to celebrate!
Francis Page Jr. | 9/23/2014, 7:43 p.m. | Updated on 9/23/2014, 7:43 p.m.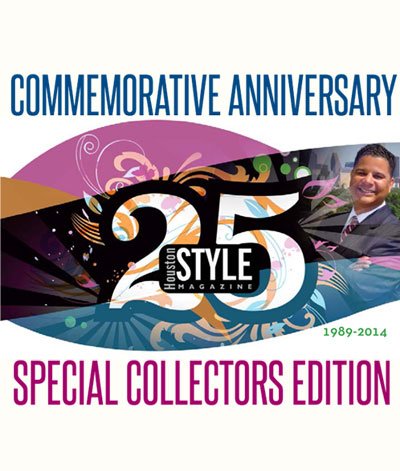 Style Fam, It's time to celebrate!
In 1989, The Cosby Show was the #1 hit on TV. The two most popular commercial quotes were "This is your brain. This is your brain on drugs. Any questions?" and "It keeps going and going and going," made famous by the introduction of the Energizer Bunny. Bobby Brown's "My Prerogative" was the #1 song in America! Driving Miss Daisy won the Oscar. 1989 was the year the Exxon Valzez spilled 30 million gallons of oil into Prince William Sound. 1989 was also the year one brave man stood in front of a tank in Tiananmen Square in China as a lone protestor against government oppression.
Indeed, 1989 was the year of the Bad Boys. The Detroit Pistons and the Miami Hurricanes were winning championships. 1989 was also the year I became a bad boy. I sold ads for an African American newspaper that had yet to be published. Then, I had the courage to put Scott Gertner (a local Caucasian entertainer) on my very first cover. For a minute, I was the baddest boy in Houston! The criticism I received from my own people for being an inclusionary urban weekly publication caught me off guard. However, I continued to push the envelope because I was born to be a publisher!
25 years later I am still a bad boy who is able to change with the passing tide. From floppy discs and fax machines to jump drives and putting things on the cloud, Houston Style Magazine and I have evolved with the times. We are not just local; we are global. Our contributing writers are known all over the world. We cover national topics and earth-changing issues. Our advertisers are in the upper echelon of Fortune 500 companies! Our loyal business partners are captains of their industry. On Friday, October 3, 2014, Houston Style Magazine will celebrate its silver anniversary in grand fashion at a star-studded anniversary reception at Del Frisco's in the fabulous Galleria! The sold-out event will feature Ndaba Mandela, grandson of legendary South African leader Nelson Mandela, as the keynote speaker. Hollywood executive producer Nicole Murphy will be there making a special appearance. All-World Center Dwight Howard of the Houston Rockets who will receive the 2014 Champion of Change Award as the reigning king of Houston. We are bringing Houston's own Tony Wyllie back home to celebrate his achievement at the highest ranking African American PR executive in the NFL and all of sports to receive the 2014 Hometown Hero Award. In addition, Cloves C. Campbell, Jr., President and CEO of the NNPA will bring remarks.
We could not have made it these past 25 years without our amazing advertisers. Corporate titans such as General Motors, Wells Fargo Bank, Macy's, H-E-B, Wal-Mart and others will be on the front row to help us celebrate 25 successful years of bringing the world directly to Houston. Several of them will be the recipients of Houston Style Magazine's 2014 awards - including our Legacy Award, Pinnacle Award, Heritage Award, Visionary Award, and our Triumph Award.