Kids Book Series Celebrates Multicultural Families; Empowers Girls
Of 3,200 children's books published in 2013, only 93 featured African Americans, according to a study by the Cooperative Children's Book Center at the University of Wisconsin.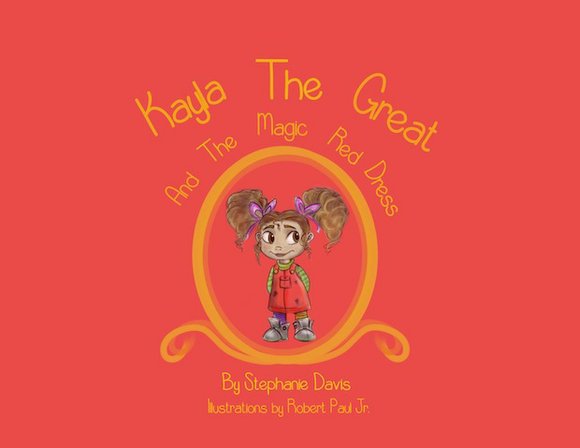 Atlanta, GA (BlackNews.com) -- Celebrating diversity and girl power, a new picture book released this month by Atlanta writer Stephanie Davis is encouraging young girls to be smart, confident and comfortable in their own skin.
Kayla The Great and The Magic Red Dress centers around six-year-old Kayla The Great, a playful, energetic biracial girl who lives with her family in Atlanta, GA. With her big, curly, brown and blonde hair, colorful outfits, stylish accessories and high-top boots, Kayla The Great marches to the beat of her own drum. As the youngest of three children and the only girl in her family, she embraces her unique qualities. Kayla The Great is friendly and fun-loving, but always manages to get herself into a dilemma. Her spunky spirit always shines through, even when she's in trouble.
Kayla The Great loves the color red and adores her favorite red dress, even though it's torn and tattered. When her beloved dress comes up missing, Kayla The Great goes on a mission to find it in Kayla The Great and The Magic Red Dress. A story of self-love, hard work and family, children will also learn about confidence and leadership. "Kayla The Great is the hero of her own story. That's girl power!" said author Stephanie Davis.
Recent studies have shown that over the past 18 years, diversity in children's books has not grown. Only 10% of children's books in the last 18 years contained multicultural content. "Children of color are absent from books," said Davis. "There's a real disconnection here. Children's books are not an honest reflection of the world we live in."
Kayla The Great and The Magic Red Dress is available at www.kaylathegreat.com or www.Amazon.com.
FOLLOW KAYLA THE GREAT:
Facebook: Kayla The Great (www.facebook.com/smartsweetkayla)
Instagram: @smartsweetkayla (#kaylathegreat)
Twitter: @smartsweetkayla (#kaylathegreat)
About the Author
Stephanie Davis is an Atlanta-based writer and creator of the Kayla The Great children's book series. She is also an accomplished public relations practitioner and author of the sarcastic lifestyle blog, THINKPink. She is a native of Jacksonville, Florida and a graduate of Georgia State University. Follow her on Twitter: @TheRealSteff and Instagram: @therealsteff