Ndaba Mandela Continues Legacy Carrying Africa on His Shoulders
Gabrielle Deculus | 9/24/2014, 7:49 p.m. | Updated on 9/24/2014, 7:49 p.m.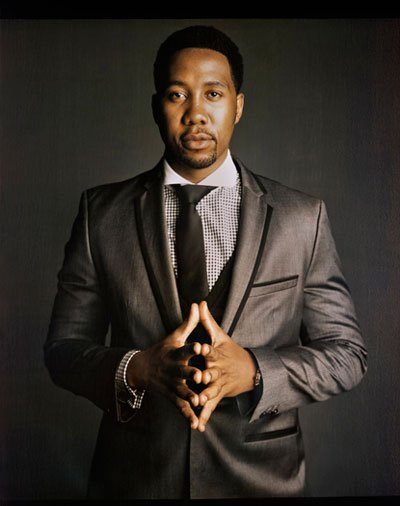 Nelson Mandela shared his journey of sacrifice for peace and freedom with the world, impacting millions by empowering his own people. Today, that same resilience is running through the veins of his grandson, Ndaba Mandela. We had a chance to chat with Ndaba about how his grandfather impacted him, how he is empowering Africa and how he is ending Afro-pessimism.
Ndaba Mandela was born to Nelson Mandela's son Makgatho Mandela in 1982. Ndaba became acquainted with his grandfather in 1990 while visiting him at the notable Victor Verster Correctional Centre while he transition out of incarceration. He says that visiting his grandfather in prison was a great experience and that the prison he assumed would be all concrete and cold, turned out to be a "palace." This palace had cooks and drivers, and was better than the house he and his family resided in. "I wanted to live there. I wanted to go to prison," he chuckled. "I never really understood what was going on." Ndaba's view of his grandfather from that moment was one of respect and value.
Shortly after Nelson Mandela was released from prison, he made accommodations for Ndaba to move into his home in Johannesburg. He sent Ndaba's parents to school at a local university. "He became my father, my parent, my teacher, my role model, my mentor... my everything. That is when my life changed," said Ndaba.
Life at the Mandela's residence was strict and education driven. With the presidency, Nelson was very busy, but there were perks. Ndaba met many world icons like Michael Jackson, Fidel Castro, Oprah Winfrey and Lennox Lewis, to name a few. However, the biggest perk was the direct influence from his grandfather. "My grandfather has had the biggest impact on my life. He taught me to be humble... Never boast! Never judge people by their appearance! He also taught me to value Africa's people." Ndaba carries these principles with him today with the development of his organization, the Africa Rising Foundation.
The Africa Rising Foundation was created by Ndaba and his cousin, Kewku Mandela, to empower African youth and add value to Africa. Their vision is to develop the people and continent to compete with the rest of the world starting with a Resource HUB in their family's village, Qunu. Currently, there is a designated building for a library and computer centre. The computer centre will offer classes to increase computer application and literacy concentrating on school children and stimulating agriculture business.
Ending Afro-pessimism is another goal for Ndaba. He is currently developing the African Dream Media Company. " My media company will allow Africans to tell the world what is going on in Africa. We cannot allow outsiders to keep telling our story," he said. The African Dream Media Company will also engage influential Africans across the world that work in different industries to express what their dream is for Africa.
"Stop looking and talking down on Africa, stop contributing to the Afro-pessimism. Get an African friend that lives on the continent and visit them. Go see what it is really like... take ownership of Africa," said Ndaba.
Houston Style Magazine is proud to have Ndaba Mandela as the keynote speaker at the Houston Style Magazine's 25th Anniversary Reception on October 3, 2014 at Del Frisco's – Houston Galleria at 6pm. For tickets: please visit www.stylemagazine.com/style25.
For more information on Ndaba Mandela, visit ndabamandela.co
For more information on the Africa Rising Foundation, visit arfoundation.co