Fashion Designers Tommy Hilfiger and Dee Ocleppo Hilfiger To Honor 2014 CancerForward Forward Movers at Saks Fifth Avenue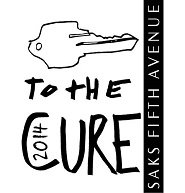 HOUSTON, TEXAS – Saks Fifth Avenue will present Houston's 16th Annual Saks Fifth Avenue Key To The Cure Kickoff from 6:30 until 8:30, Wednesday, October 15, 2014 at Saks Fifth Avenue, Houston Galleria. Chaired by Kristy and Chris Bradshaw, the event is one of the fall season's most anticipated social happenings, and will benefit CancerForward: The Foundation For Cancer Survivors for the fifth consecutive year. Tickets are $50 per person in advance or $100 per person the night of the event.
Making personal appearances will be American classic prep designer Tommy Hilfiger and his wife Dee Ocleppo Hilfiger, designer of the new luxury handbag collection, Dee Ocleppo, launching this fall and available exclusively in the U.S. at Saks Fifth Avenue.
The Hilfigers will join CancerForward founder and chair Beth Sanders Moore in presenting awards to the 2014 Class of CancerForward Forward Movers, eight Texas cancer survivors who are also noted civic leaders. The honorees include: Margo Hilliard Alford, MD, MPH; Rev. Preston J. Allen, MDiv, MA; Ron Baloochi; Janet Cockrell; Rebecca Cooke; Michael Francisco; Bob G. Gower, PhD; and, Anne Hamilton Meyn, MEd.
Said Moore, "Over the past five years, CancerForward's Forward Mover Program has recognized nearly 75 cancer survivors who as community leaders serve as role models to those seeking healthy cancer rehabilitation. We are deeply indebted to Saks Fifth Avenue for underwriting this important public awareness initiative."

The evening also serves as the formal unveiling of the annual Key To The Cure T-shirt, designed this year by Rag and Bone. Priced at $35 each, the unisex T-shirt will go on sale beginning Tuesday, October 1, 2014 at Saks Fifth Avenue.
CancerForward will receive 100% of the proceeds from Houston area sales of the Key To The Cure T-shirt as well as 2% of storewide merchandise sales made at Saks Fifth Avenue, Houston Galleria during Charity Shopping Weekend: Wednesday, October 15 until Sunday, October 19, 2014. In the 16 year history of Charity Shopping Weekend, Saks Fifth Avenue has raised over $35 million benefiting cancer-related organizations nationwide.
To purchase tickets or make a donation to the October 15 Houston event, log onto www.cancerforward.org