Houston's Esteemed Third Ward Academy Welcomes New Leadership and Celebrates Academic Success
WALIPP-TSU Preparatory Academy offers ongoing enrollment to meet the critical academic and social development needs of inner-city youth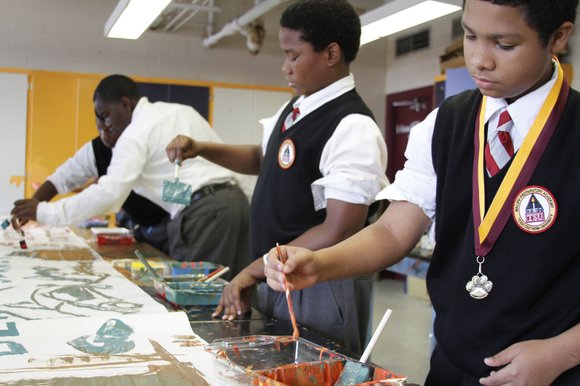 Houston, TX September 18, 2014- This fall, the William A. Lawson Institute for Peace and Prosperity (WALIPP) Preparatory Academy appointed a new Director of Schools, Dr. Marthea Raney, who brings with her more than 20 years of experience of Administration in Education, specifically serving Houston's inner-city youth.
The WALIPP-TSU Preparatory Academy's mission is to educate and mentor youth in single gender schools; building character and community through partnerships with mentors and universities. The Academy operates two middle-school (grades 6-8) campuses and uses a creative academic curriculum to build student success and to develop the whole person. They've kicked off the school year strong and are still accepting enrollment applications for girls and boys.
Within a short time span, under Dr. Raney's leadership, the third ward academy has celebrated a multitude of milestones and significant improvements among the faculty, staff and students.
"Dr. Raney is kicking off the 2014-2015 school year with outstanding community partnerships that promise to greatly enhance the academic and extracurricular program offerings available to students," said Cheryl Lawson, Executive Director at WALIPP. "She has interviewed staff and partners, received training on a myriad of resources used in the Academy, and led our transition from our previous location at Texas Southern University (TSU) to our St. James location located at 3129 Southmore Blvd."
Looking forward to her new responsibilities at WALIPP, Raney shared her love and enthusiasm for education. "I've always made it my goal to keep in mind that children are at the heart of everything we do as educators," she said. "Our role is to provide children with a variety of experiences that allow them to thrive and flourish, and I believe that all decisions in a school should be made with the best interest of them in mind."
In addition to celebrating a new Director of Schools, the academy is also celebrating success in the classroom with recent news of exceeding the state of Texas' target for Student Achievement and Closing Performance Gaps in the 2014 Accountability Summary by the The Texas Education Agency.
About WALIPP Prepatory Academy
WALIPP-TSU Preparatory Academy is a unique Charter School founded by the William A. Lawson Institute for Peace and Prosperity, WALIPP. It was conceived by Mrs. Audrey Lawson, and was founded to meet the critical academic and social development needs of inner-city youth. Targeting middle school male and female students, the Academy is an authentic (real-world) learning community. It uses a creative academic and experiential curriculum to build student success and to develop the total person.
Its highly qualified staff and program support have been constructed to:
Enhance student preparedness.

Enable competitive success

Ensure marketability of students
To learn more about WALIPP and the enrollment process, visit www.walippacademy.org.