The Pasadena Playhouse Presents The U.S. Premiere of "Waterfall" An Epic New Broadway Musical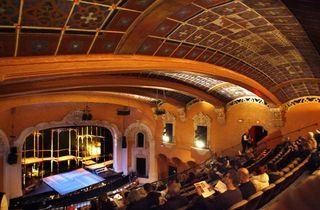 PASADENA, CA (September 29, 2014) – The Pasadena Playhouse (Artistic Director Sheldon Epps and Executive Director Elizabeth Doran) announced today that they will present the U.S. premiere of WATERFALL, an epic new Broadway musical love story, featuring a distinguished international creative team. Preview performances begin May 29, 2015 with the official press opening on June 7, 2015 at The Pasadena Playhouse (39 S. El Molino Avenue in Pasadena). The production will then play Seattle's 5th Avenue Theatre in Fall 2015, prior to reaching Broadway in 2016.
WATERFALL marks a groundbreaking collaboration between American and Asian theatrical artists. The musical, based on a contemporary classic Thai novel, Behind the Painting by Sriburapha, features book and lyrics by Tony Award-winner Richard Maltby Jr. (Ain't Misbehavin', Miss Saigon) and music by Oscar-winner and two-time Tony Award nominee, David Shire (Baby, Big, written in collaboration with Richard Maltby, Jr.) The production will be choreographed by Tony Award-nominee Dan Knechtges (Xanadu) and directed by Broadway and Thai theatrical impresario Tak Viravan.
Sheldon Epps, Artistic Director of The Pasadena Playhouse, says, "I am tremendously excited that The Playhouse, in collaboration with Seattle's 5th Avenue Theatre, will have the great honor of presenting the American premiere of this evocative, romantic, and visually stunning new musical. It will allow us to extend our already strong diversity efforts through outreach to our Asian American community, while continuing to entice our existing audiences who will surely want to see the work of this dynamic creative team. Participating in the development and the nurturing of material of this caliber with such respected artists is one of the most exciting things that our theatre can do. I look forward to a thrilling creative journey."
"As the State Theater of California," says Executive Director, Elizabeth Doran "we are proud to reflect and build bridges between the many diverse communities that represent our great state. This new musical will round out a season of shows that celebrates and amplifies this vision. WATERFALL will provide audiences with a night of powerful, epic entertainment!"
Director Tak Viravan of WATERFALL, says, "This is a beautiful, epic love story that deals with the different cultures of the world. It touches people's hearts with a beautiful score by David Shire and Richard Maltby Jr. It is a combination of the American musical and the authenticity of the eastern world, but told for a western audience. It combines all the beauties of the world with the different cultures of the world. WATERFALL is a rich, romantic, melodic piece of theatre. I hope audiences from Pasadena and Los Angeles will come."
Viravan is the leading figure of Thailand's burgeoning theatre scene, where he has directed 14 musicals and plays and has presented many international touring productions. WATERFALL is adapted from an earlier musical, Behind the Painting, which Viravan directed in Thailand. He has also been a producer for several Broadway musicals, including the Tony-nominated revival of How to Succeed in Business Without Really Trying (2011) and Nice Work If You Can Get It. Viravan is one of the most prominent and influential figures of Thailand's entertainment industry, where he is also known as a television producer/director and for music and artist management.