The Pasadena Playhouse Presents The U.S. Premiere of "Waterfall" An Epic New Broadway Musical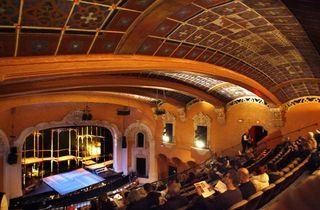 PASADENA, CA (September 29, 2014) – The Pasadena Playhouse (Artistic Director Sheldon Epps and Executive Director Elizabeth Doran) announced today that they will present the U.S. premiere of WATERFALL, an epic new Broadway musical love story, featuring a distinguished international creative team. Preview performances begin May 29, 2015 with the official press opening on June 7, 2015 at The Pasadena Playhouse (39 S. El Molino Avenue in Pasadena). The production will then play Seattle's 5th Avenue Theatre in Fall 2015, prior to reaching Broadway in 2016.
WATERFALL marks a groundbreaking collaboration between American and Asian theatrical artists. The musical, based on a contemporary classic Thai novel, Behind the Painting by Sriburapha, features book and lyrics by Tony Award-winner Richard Maltby Jr. (Ain't Misbehavin', Miss Saigon) and music by Oscar-winner and two-time Tony Award nominee, David Shire (Baby, Big, written in collaboration with Richard Maltby, Jr.) The production will be choreographed by Tony Award-nominee Dan Knechtges (Xanadu) and directed by Broadway and Thai theatrical impresario Tak Viravan.
Sheldon Epps, Artistic Director of The Pasadena Playhouse, says, "I am tremendously excited that The Playhouse, in collaboration with Seattle's 5th Avenue Theatre, will have the great honor of presenting the American premiere of this evocative, romantic, and visually stunning new musical. It will allow us to extend our already strong diversity efforts through outreach to our Asian American community, while continuing to entice our existing audiences who will surely want to see the work of this dynamic creative team. Participating in the development and the nurturing of material of this caliber with such respected artists is one of the most exciting things that our theatre can do. I look forward to a thrilling creative journey."
"As the State Theater of California," says Executive Director, Elizabeth Doran "we are proud to reflect and build bridges between the many diverse communities that represent our great state. This new musical will round out a season of shows that celebrates and amplifies this vision. WATERFALL will provide audiences with a night of powerful, epic entertainment!"
Director Tak Viravan of WATERFALL, says, "This is a beautiful, epic love story that deals with the different cultures of the world. It touches people's hearts with a beautiful score by David Shire and Richard Maltby Jr. It is a combination of the American musical and the authenticity of the eastern world, but told for a western audience. It combines all the beauties of the world with the different cultures of the world. WATERFALL is a rich, romantic, melodic piece of theatre. I hope audiences from Pasadena and Los Angeles will come."
Viravan is the leading figure of Thailand's burgeoning theatre scene, where he has directed 14 musicals and plays and has presented many international touring productions. WATERFALL is adapted from an earlier musical, Behind the Painting, which Viravan directed in Thailand. He has also been a producer for several Broadway musicals, including the Tony-nominated revival of How to Succeed in Business Without Really Trying (2011) and Nice Work If You Can Get It. Viravan is one of the most prominent and influential figures of Thailand's entertainment industry, where he is also known as a television producer/director and for music and artist management.

Thai superstar Bie Sukrit Wisetkaew will make his American stage debut in WATERFALL. From his discovery in 2006 on the Thai television talent contest, "The Star," Bie has become one of Thailand's most famous and recognizable young talents, starring on stage, screen and television. As a recording artist, his credits include several top-selling albums and sold out concert tours. Bie created the role of Noppon in the musical Behind the Painting, the earlier version of WATERFALL. His co-stars and additional casting and creative team will be announced in coming weeks.


WATERFALL is an epic love story, set in Bangkok and Tokyo between the turbulent years of 1933 and 1939, as a monarchy falls in Thailand and Japan is on the brink of war. A young Thai student falls in love with the American wife of a Thai diplomat, and the story of their forbidden love parallels history as the new democracy of Siam moves into the vortex of the increasingly anti-American Japan. With a gloriously romantic score, WATERFALL is a modern love story of timeless scale.
WATERFALL will be produced on Broadway by Scenario Company Ltd. and Jack M. Dalgleish. Foresight Theatrical serves as general managers. Production dates for Broadway will be announced soon.
The Pasadena Playhouse is located at 39 South El Molino Avenue, Pasadena, CA 91101. The performance schedule is Tuesday through Friday at 8:00 p.m.; Saturday at 4:00 p.m. and 8:00 p.m.; and Sunday at 2:00 p.m. and 7:00 p.m. Tickets, priced from $47.00 to $87.00, are available online at PasadenaPlayhouse.org; by calling The Pasadena Playhouse at 626-356-7529; or visiting The Pasadena Playhouse Box Office, Tuesday – Sunday from 1:00 p.m. until 6:00 p.m. during non-performance dates. On performance dates the Box Office is open Tuesday – Saturday from 1:00 p.m. – 8:00 p.m. and 1:00 p.m. – 7:00 p.m. on Sunday. For more information, visit PasadenaPlayhouse.org.
BIOGRAPHIES
RICHARD MALTBY JR. (Book, Lyrics) Broadway: Conceived and directed two Tony Award winning musicals: Ain't Misbehavin' (1978: Tony, N.Y. Drama Critics, Outer Critics, Drama Desk Awards — also Tony Award for Best Director.) Fosse (1999: Tony, Outer Critics, Drama Desk Awards); and Ring of Fire, The Johnny Cash Musical, (2006). With composer David Shire, director/lyricist: Baby (1983, book by Sybille Pearson; seven Tony Award nominations); lyricist: Big (1996, book by John Weidman; Tony nomination: Best Score); lyricist/conceiver, Take Flight (book by John Weidman) world premiere 2007 at the Menier Chocolate Factory in London, also produced in Japan 2007, American premiere in 2010 at McCarter Theatre in Princeton, New Jersey. With Alain Boublil and Claude-Michel Schonberg, co-lyricist: Miss Saigon (Evening Standard Award 1990; Tony nomination: Best Score, 1991); co-bookwriter/lyricist: The Pirate Queen (2007). Director, The Story of My Life (2009). Director/co-lyricist: American version of Andrew Lloyd Webber's Song & Dance (1986 Tony Award for star, Bernadette Peters.) Off-Broadway: director/lyricist Starting Here, Starting Now (1977, Grammy nomination) and Closer Than Ever (1989, two Outer Critics Circle Awards: Best Musical, Best Score), both written with composer David Shire. Regional: director, A Most Dangerous Woman (2013 Shakespeare Theatre of NJ) director, The Story of My Life (2008, Goodspeed Opera House); director, Mask (2008, Pasadena Playhouse); director, The 60′s Project (2006, Goodspeed). Film: Screenplay, Miss Potter (2007) about Beatrix Potter, starring Renee Zellweger and Ewan McGregor (Christopher Award, best screenplay.). Thirty year association with The Manhattan Theatre Club. Contributes devilish crossword puzzles to Harpers Magazine. Son of well-known orchestra leader; Five children: Nicholas, David, Jordan, Emily and Charlotte.
DAVID SHIRE (Music), an Oscar and Grammy winner and multiple Tony and Emmy nominee, has composed prolifically for the theater, films, television and recordings. Broadway: Baby (Tony nominations for Best Score and Musical); Big (Tony nomination, Best Score). Off-Broadway: Starting Here, Starting Now (Grammy nomination); Closer Than Ever (Outer Critics Circle Award for Best Musical and Score); Take Flight (with collaborators Richard Maltby and John Weidman), produced in London, Tokyo, St. Petersberg, Russia, McCarter Theatre. Currently collaborating on new musicals with Richard Maltby and Adam Gopnik. Feature film scores: Norma Rae (Academy Award), The Conversation, All the President's Men, The Taking of Pelham 1-2-3, Zodiac, Farewell, My Lovely, The Hindenberg, Saturday Night Fever (two Grammy Awards), many others. Television scores: five Emmy nominations. Songs recorded by Barbra Streisand, Maureen McGovern, Melissa Manchester, Jennifer Warnes, John Pizzerelli, Nancy Lamont, Vanessa Williams, Glenn Campbell, Liz Callaway, Johnny Mathis, Kiri Te Kanawa, Billy Preston & Syreeta (international hit single "With You I'm Born Again"), and numerous others. Life member of the Dramatists Guild Council. He lives in the Hudson Valley with his wife Didi Conn.
TAK VIRAVAN (Director) is one of the most prominent and influential figures in Thailand's entertainment industry, including television, music, artist management, and live theatre. He has been credited for building and sustaining the Thai theatre industry on a commercial scale, making him the biggest driving force of live theatre in the country. Since 1997, he has produced 21 and directed 14 Thai musicals and plays, including Behind the Painting, Four Reigns, Lady Chinatown, 11 Scenes of Soul Mates, and the Thai production of Miss Saigon and has presented many international touring productions, including The Phantom of the Opera, Mamma Mia!, Chicago and Cats. He is the Managing Director and Artistic Director of Scenario Co., Ltd., which owns and operates Muangthai Rachadalai Theatre, the most equipped proscenium theatre in Thailand. For Broadway, he was a producer for Nice Work If You Can Get It, How To Succeed in Business Without Really Trying, Promises, Promises, On a Clear Day, and Lysistrata Jones. In addition to his contribution to Thai theatre, for over 25 years, Tak has produced and directed top rated television dramas, sit-coms, variety shows, and live concerts. In 2014, he became the CEO of ONE, a new digital television channel in Thailand. He studied in the United States for 12 years, receiving his BA in Communications and Theatre from Boston College and a BS in Broadcasting from Boston University.


DAN KNECHTGES (Choreography) is a Tony-nominated choreographer and director working in theater, opera, concert dance, live-events, television, film and music videos. Dan has directed and choreographed for numerous theatres across the country and internationally on shows ranging from Gilbert and Sullivan to Rodgers and Hammerstein to Brecht. Broadway credits include Lysistrata Jones (Direction & Choreography), Xanadu (directed by Chris Ashley, Tony nomination, Drama Desk nomination), Sondheim on Sondheim (directed by James Lapine), 110 in The Shade (starring Audra McDonald) and The 25th Annual Putnum County Spelling Bee (directed by James Lapine.) Dan had the blessedly rare occurrence to have three shows running simultaneously on the Great White Way in 2007. Dan also choreographed the Off-Broadway incarnation of The 25th Annual Putnum County Spelling Bee at Second Stage, which earned him a Lucille Lortel Award nomination. Off-Broadway credits include directing Tail! Spin! (starring Mo Rocca and Rachel Dratch) for the 2012 Fringe Festival, Merrily We Roll Along for Encores! at City Center (directed by James Lapine), Vanities at Second Stage and directing and choreographing Lysistrata Jones for the Transport Group. Other credits include Der Schuh Das Manitu (Berlin, Germany), The Nightingale (LaJolla Playhouse), Beaches (Signature Theatre), Guys & Dolls (Playhouse Square Center), Elf (Pioneer Theatre), Vanities (Theatreworks Palo Alto), Give It Up! (Dallas Theatre Center), Girl In The Frame (Goodspeed), Boys From Syracuse (Centerstage Baltimore), Godspell (Papermill Playhouse), Oklahoma!, The Wiz, Cats, My Fair Lady, Chalk Circle, Sound of Music, Joseph (Hangar Theatre), Mame, Angel Street, Funny Thing Happened on the Way to the Forum (Surflight Theatre), Don Giovanni (Indianapolis Opera), Carousel, The Merry Widow, West Side Story (Opera Illinois). He also has had the pleasure of working on almost every Gilbert & Sullivan operetta including The Grand Duke, Iolanthe, Ruddigore, The Mikado, Patience, The Gondoliers, H.M.S. Pinafore and The Sorcerer all with the Blue Hill Troupe in NYC. Dan not only has worked in the theatre world but also has worked on several operas and concerts. He had the unique experience of choreographing Leonard Bernstein's MASS for the Dallas Symphony to commemorate the 40th anniversary of the assassination of JFK. He also set the piece on Ballet Met dancers in Columbus, OH for ProMusica. Dan's concert dance premiere was for BalletMet's JazzMoves choreographing the finale, Mowtown Moves with the Columbus Jazz Orchestra. Dan's choreography can be seen in the Todd Solondz's movie Palindromes, Dark Horse, "White Collar" on USA Network, The 2011 TV Land Awards with Liza Minnelli, and in Fatboy Slim's music video "It's a Wonderful Night," which reached #1 in the U.K. He has also taught dance at numerous institutions and often does master classes all over the country. Dan holds a BFA in musical theatre from Otterbein College in Westerville, OH and hails from Cleveland, OH. He is also a member of the Lincoln Center Director's Lab and serves on the Executive Board of the Stage Director's and Choreographer's Society - SDC. For more information visit www.danknechtges.com
BIE SUKRIT WISETKAEW (Noppon) One of Thailand's biggest stars, Bie is a preeminent singer and actor on stage and screen. From 2008 to 2012, he was consecutively voted "Thailand's Most Popular Star of the Year". His acting credits began with his work in television drama and sit-coms, many of which were also broadcast in China and other Asian countries, expanding his fan base outside of Thailand. His theatrical credits include the musicals Behind the Painting and Rainbow in the Night. In 2014, he starred in the movie The Teacher's Diary which topped box-office upon its release. He has released six solo albums with a number of chart-topping hit songs, including "I Need Somebody," "Jungwa Huajai" and "Na Bud Now", as well as having staged several sold-out 10,000 seat arena concerts.
SCENARIO COMPANY LIMITED (Producer) is one of Thailand's most active entertainment companies. Scenario made its mark on Thailand's television industry with quality productions of primetime television dramas and sit-coms. For more than 10 years, Scenario has developed widespread popularity among viewers, producing over 10 hours of television programs each week. Following its television success and through the passion and dedication of Managing Director and Artistic Director Tak Viravan, the company began to produce stage plays and musicals. In 2007, Scenario built Muang Thai Rachadalai Theatre, Thailand's most equipped 1500 seat proscenium theatre, which the company owns and operates. The theatre has housed several big scale original musicals and plays, including Four Reigns, The Throne of Clouds, Lady Chinatown, Mae Nark of Phra Kanong, 11 Scenes of Soul Mates and Behind the Painting, making the company the pioneer of live theatre on a commercial scale. The company also presented international touring Broadway and West End musicals, including Cats, Cinderella starring Lea Salonga, Chicago, Mamma Mia! and The Phantom of the Opera. Other businesses under the Scenario banner include live concerts and state of the art production studios.
JACK M. DALGLEISH (Producer) is a Tony and Olivier Award-winning producer of theater and film. Mr. Dalgleish garnered the Tony®, Olivier and Drama Desk Awards for Spring Awakening, written by Duncan Sheik and Steven Sater, directed by Michael Mayer, and choreographed by Bill T. Jones. On Broadway, he also produced No Man's Land (which earned two Drama Desk nominations) and Waiting for Godot in repertory starring Sir Ian McKellen and Sir Patrick Stewart, The Story of My Life, which earned four Drama Desk nominations and the Tony-nominated Time Stands Still, written by Pulitzer Prize-winner, Donald Margulies. Off-Broadway, Mr. Dalgleish produced the award-winning production of Zanna, Don't! and was an Associate Producer on Shakespeare's R&J, the longest running production of Romeo & Juliet in New York City history. Currently, Mr. Dalgleish is developing a new musical about Charlie Chaplin's mother, Hannah Hill, entitled Up God's Ladder, written by Roberto Bolanos Gomez (aka Chespirito) and Florinda Meza Garcia, and Waterfall, a Thai musical that is being adapted for the New York stage by the Tony and Oscar-winning writing team of Richard Maltby, Jr. and David Shire.
In film, Mr. Dalgleish is currently producing the animated feature film, Lazy Jack, written by Q. Allan Brocka and based on the short story "Nureyev's Dog" by Elke Heidenreich, and the live action films, The Candymakers based on the New York Times' bestseller by Wendy Mass, Some of Tim's Stories by S.E. Hinton, the bestselling author of The Outsiders and The Last Christmas of Ebeneezer Scrooge, a sequel to Dickens' A Christmas Carol, based on the novel by Marvin Kaye. He is an Executive Producer of Jeremy Fink and the Meaning of Life, based on the young adult novel by Wendy Mass and written and directed by Tamar Halpern with a cast that includes Mira Sorvino, Joe Pantoliano, Michael Urie and Betsy Brandt. As an experienced attorney and tax accountant in the entertainment industry, specializing in film and theatrical production, Mr. Dalgleish has provided consulting services internationally to producers wishing to produce American theater in their home territories. Mr. Dalgleish has also lectured worldwide on the development of original theater, is a graduate of the Commercial Theater Institute, and is a Tony voting member of the Broadway League.
THE PASADENA PLAYHOUSE, under Artistic Director Sheldon Epps and Executive Director Elizabeth Doran, began in 1917, performing in its grand historic theatre since 1925. The theatre's rich history includes world premieres by noted playwrights and authors including Eugene O'Neill, William Saroyan, Noel Coward, F. Scott Fitzgerald and Tennessee Williams and prestigious alumni of its equally famous school of theatre arts include Raymond Burr, Rue McClanahan, Charles Bronson, Jamie Farr, Gene Hackman, Dustin Hoffman and Sally Struthers.
In 1937, The Playhouse was recognized by the State Legislature as the State Theatre of California for bringing national and international renown to the state as a center for dramatic art.
A new era began when Sheldon Epps became artistic director in 1997. Production highlights include the launch of the national tour of Purlie (with the Goodman Theatre); Sister Act: The Musical, which played in the West End at the London Palladium Theatre and on Broadway at the Broadway Theatre (Five 2011 Tony Award nominations, including Best Musical) and is currently on a national tour; and Baby, It's You!, which played at Broadway's Broadhurst Theatre (2011 Tony Award nominee). Other Broadway shows developed at The Pasadena Playhouse include A Night With Janis Joplin (2014 Tony Award nominee), Stormy Weather: The Lena Horne Story, Can Can: The Musical, and Ray Charles Live. Notable local productions include Fences starring Laurence Fishburne and Angela Bassett and directed by Sheldon Epps, The Heiress starring Richard Chamberlain, Citizen Twain starring Val Kilmer, Above the Fold starring Taraji P. Henson, Stoneface starring French Stewart and 2014-2015 Playhouse Season opener Kiss Me, Kate starring Wayne Brady and directed by Mr. Epps.
In 2005 the Theatrical Diversity Project was organized by Mr. Epps to empower young people from disenfranchised communities through free student performances and arts education programs; and to cultivate artists of all backgrounds through new play development and mainstage artistry. The Theatrical Diversity Project has supported productions of shows such as Fences, Stormy Weather, Uptown Downtown, Blue For An Alabama Sky, Intimate Apparel, 12 Angry Men (cast for the first time with six black and six white men), produced in response to race-related events in 2013, and Kiss Me, Kate (cast for the first time with a primarily black cast to showcase the trailblazing African-American actors and entertainers of the early 20th century). The project has supported access to free student matinees and arts education programs for thousands of children facing barriers to exposure to the arts. In 2013, the Theatrical Diversity Project supported pilot outreach initiatives to local Hispanic and Asian/Pacific Islander patrons and has expanded to further engage these communities.
For more information visit www.danknechtges.com