Olympic Swimmer Michael Phelps Arrested for DUI
9/30/2014, 12:52 p.m.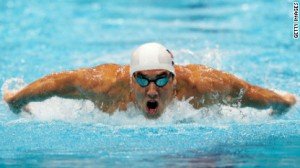 By Ray Sanchez
Olympic swimmer Michael Phelps was arrested early Tuesday morning in Maryland on a DUI charge, according to the Maryland Transportation Authority.
Phelps was arrested about 1:40 a.m. and charged with driving under the influence, excessive speed and crossing double lane lines within the Fort McHenry Tunnel on I-95 in Baltimore. He was later released.
A Maryland Transportation Authority police officer was operating a stationary radar on southbound I-395 leaving Baltimore when a white 2014 Land Rover passed, traveling at 84 mph in a 45-mph zone, police said.
The officer followed the vehicle onto northbound I-95, through the tunnel and stopped the Land Rover just beyond the tunnel's toll plaza.
Phelps was identified as the driver by his driver's license and appeared to be under the influence.
"He was unable to perform satisfactorily a series of standard field sobriety tests," a Maryland Transportation Authority statement said. "Mr. Phelps was cooperative throughout the process."
More at CNN.com