Tommy Bahama Announces 2015 Major League Baseball Collection
Powerhouse brands gear up for the sixth year of MLB Apparel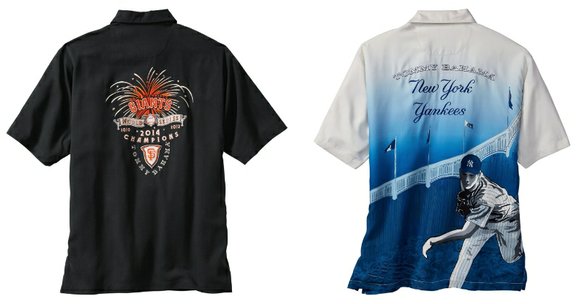 SEATTLE, April 2, 2015 /PRNewswire/ -- Tommy Bahama is back with its highly successful line of officially licensed MLB apparel for the 2015 Major League Baseball season. The rollout of product includes the eagerly anticipated San Francisco Giants 2014 World Series Championship shirt, the exclusive "Collector's Edition" shirts and a collection of premium sportswear for fans of all 30 MLB teams.
2014 World Series Championship Shirts: Tommy Bahama honors the San Francisco Giants with the 2014 World Series Championship commemorative shirts. Two styles are offered: a classic panel back camp shirt and a half-zip sweatshirt. Both are beautifully designed with colorful embroidery that celebrates the Giants' three World Series wins in the last five seasons. Retail: $158 for panel back camp shirt and $148 for half-zip sweatshirt
"Collector's Edition" Series: Tommy Bahama will release a new selection of their highly coveted "Collector's Edition" series shirts. For the 2015 season, the New York Yankees, Los Angeles Dodgers and San Francisco Giants will be featured on the custom-designed, signature silk camp shirts. Each shirt features dramatic artwork that wraps around the shirt, and includes the team name, logo and significant landmarks that represents each team. For the Dodgers, it's the mid-century modern Dodger Stadium with palm trees swaying in the breeze; for the Yankees, it's the crowd of fans set against the gently curving facade of Yankee Stadium; and for the Giants, it's the iconic Golden Gate Bridge and a classic Cooperstown logo. Only a limited number of each shirt is produced and each one of them is numbered. The "Collector's Edition" shirts will be available in early May exclusively at Tommy Bahama stores and online attommybahama.com. Retail: $250
The Tommy Bahama MLB collection of premium, apparel for 2015 offers a variety of options for true baseball fans, as well as Tommy Bahama enthusiasts. The collection includes:
MLB Team Shirts: Retro-inspired team logo and graphics are featured on the back of the colorful silk jacquard shirts. These shirts are available for three select MLB teams - the St. Louis Cardinals, Detroit Tigers and Chicago Cubs. Retail: $158
Caught Looking: A tropical-inspired silk camp shirt with whimsical baseball themed embroidery on the back and the team logo on the sleeve. Available for all 30 MLB teams. Retail: $158
Base Hitter: Baseball-inspired tonal embroidery on the front of a silk camp shirt and team logo on the sleeve. Available for all 30 MLB teams. Retail: $148
Firewall Polo: A polo shirt in a premium performance fabric with baseball-inspired taping on placket and hem, and MLB team logo embroidered on sleeve. Available for all 30 MLB teams. Retail: $110
Seaglass Breezer: A long sleeve washed linen shirt with the team logo on left sleeve and baseball inspired taping accents. Available in select MLB teams and only online at tommybahama.com. Retail: $118
The Tommy Bahama 2015 MLB collection of premium, collectible apparel for the true baseball fan is available at Tommy Bahama stores, online at tommybahama.com and select specialty retailers across the country.