Toyota Texas Bass Classic Announces Final Field for 2015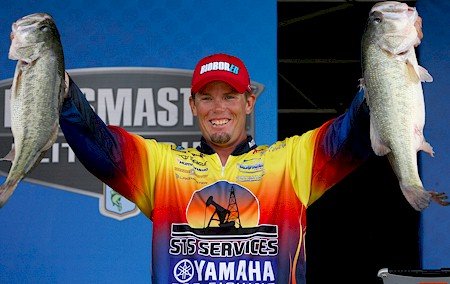 ATHENS—The Toyota Texas Bass Classic (TTBC) will feature 35 of the world's best anglers Memorial Day weekend, May 23 – 25, 2015 on Lake Fork.
The 2015 final field is made up of the top anglers in 2014 Angler of the Year points from both the FLW and Bass Elite Series plus four sponsor exemptions and defending champion Keith Combs.
"The TTBC is the tournament I look forward to above all others each year," said Combs. "As a native Texan, it was a dream come true to win my third TTBC title last year, and I cannot wait to return to the incredible Lake Fork, with the best anglers in the world, to defend my title in May."
"This is one of the strongest and most talented fields we've ever had," said Lenny Francoeur, tournament director. "We shattered records last year and with yet another star-studded field, we could be looking at rewriting those records this Memorial Day on Lake Fork."
TTBC in 2014 was one for the record books, helping to show the world how amazing a fishery Lake Fork truly is. The previous record for a three-day, tour-level event was 83 pounds, 5 ounces (15 fish). That record was broken eight times in the final round of the 2014 TTBC.
Keith Combs, the new title holder, reeled in a three-day weight of 110 pounds (15 fish). That broke the existing record by 26 pounds, 11 ounces. Additionally, two of the anglers – Combs and Stetson Blaylock — entered the Century Club (more than 100 pounds). That had never happened at a three -day tour event.
"We were proud to see the record-setting fish catches at the 2014 event," said TPWD's Dave Terre. "Those catches were a direct result of our progressive fisheries management practices, including special fishing regulations, fish stocking, and fish-habitat improvements with the Sabine River Authority. This tournament, including its unique catch-weigh-immediate release format, gives us the opportunity to show the world just how good Lake Fork really is. We are thankful for the opportunity to do this again in 2015 and also for all the benefits this event provides to TPWD."
Over the last eight years, the TTBC has donated more than $2 million to TPWD, an effort that will continue in 2015.
Along with the coveted title of TTBC Champion, the anglers will be battling it out for two additional awards: the Toyota Tundra Big Bass Award and the LEER Heavy Weight Award. The Toyota Tundra Big Bass Award is new to the 2015 event. The angler who catches the single heaviest fish from any of the three days of the competition will win a 2015 Toyota Tundra. The angler with the heaviest total weight of fish from any of the three days of the tournament will win a LEER truck cap.
2015 Toyota Texas Bass Classic final field:
Matt Arey, Shelby, North Carolina
Casey Ashley, Donalds, South Carolina
Jason Christie, Park Hill, Oklahoma
Keith Combs, Huntington, Texas
John Crews, Salem, Virginia
Mark Davis, Mount Ida, Arkansas