Toyota Texas Bass Classic Announces Final Field for 2015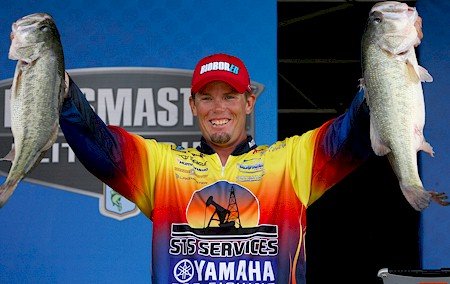 Brent Ehrler, Redlands, California
Jacob Wheeler, Indianapolis, Indiana

Todd Faircloth, Jasper, Texas
Shinichi Fukae, Palestine, Texas
Greg Hackney, Gonzales, Louisiana
Matthew Herren, Trussville, Alabama
Brett Hite, Phoenix, Arizona
Mike Iaconelli, Runnemede, New Jersey
Kelly Jordon, Mineola, Texas
Chris Lane, Guntersville, Alabama
Jared Lintner, Arroyo Grande, California
Justin Lucas, Guntersville, Alabama
Aaron Martens, Leeds, Alabama
Scott Martin, Clewiston, Florida
Cody Meyer, Auburn, California
Andy Morgan, Dayton, Tennessee
Chad Morgenthaler, Coulterville, Illinois
Michael Neal, Dayton, Tennessee
Brandon Palaniuk , Rathdrum, Idaho
Jacob Powroznik, Port Haywood, Virginia
Dean Rojas, Lake Havasu, Arizona
Mark Rose, West Memphis, Arkansas
Shad Scheneck, Waynetown, Indiana
Terry Scroggins, Palatka, Florida
Wesley Strader, Spring City, Tennessee
Gerald Swindle, Warrior, Alabama
Randall Tharp, Port Saint Joe, Florida
Bryan Thrift, Shelby, North Carolina
Kevin VanDam, Kalamazoo, Michigan

Volunteers are needed to staff multiple areas at the Toyota Texas Bass Classic. Volunteers will receive an official TTBC T-shirt and hat, a lunch volunteer badge (serves as general admission Saturday, Sunday and Monday) and a parking pass. Volunteer committees include:
ADMISSIONS/WILL CALL: Admissions volunteers will be responsible for staffing the admissions gate and assisting security to ensure that all spectators have the proper tickets for entry. Will Call volunteers will be responsible for staffing a ticket booth at the event entrance for ticket buyers to pick up previously purchased tickets.
MEDIA / PR: Assist tournament staff with the general operations of the Media Center and promotion of the Tournament, assist with sponsor requests and angler appearances.
TOURNAMENT OFFICE: Assist tournament staff with answering phones, greeting visitors, receiving and logging deliveries along with other administrative duties as requested by tournament staff.
TPWD OUTDOOR ADVENTURES AREA: Assist the Texas Parks & Wildlife Department (TPWD) with various activities in the TPWD Outdoor Adventures Area.
VOLUNTEER SERVICES: Responsible for staffing the volunteer headquarters, handling uniform distribution and maintaining a comfortable working environment for the volunteers.
The Toyota Texas Bass Classic is a world-class bass fishing tournament featuring the top 35 bass anglers in the world and a festival that includes exceptional entertainment and a variety of family and industry activities. Proceeds benefit the Texas Parks and Wildlife Department.
Tickets to the ninth annual TTBC are now available for purchase. Single-day general admission tickets are $8 in advance (online) and $15 at the door, Saturday through Monday of the tournament weekend. Three-day general admission passes are available at Brookshire's Grocery Stores, Kim's Convenience Stores and Academy Sports + Outdoors throughout East Texas for $15. Children ages 15 and under will be given free admission when accompanied by a ticketed adult. In honor of Memorial Day weekend, military members and their families will be given free admission all weekend.
New to the tournament this year are two upgraded daily VIP ticketing options, Stage Pit and Lunker Club tickets. Both are only available in limited quantities. Daily Stage Pit tickets are $30 and include general admission, a TTBC concession meal voucher and exclusive access to the pit area in front of the stage during the headline concert. Daily Lunker Club tickets are $75 and include general admission, access to a climate-controlled hospitality tent with a prime view of the stage, catered buffet and a full bar (must be 21 or older to consume alcohol).
Single day, Stage Pit and Lunker Club tickets can be purchased online at ToyotaTexasBassClassic.com or by calling the TTBC tournament office at (866) 907-0143.
Current sponsors include Toyota, Bass Pro Shops, Nitro Boats, Wood County Industrial Commission, Anheuser-Busch, LEER Truck Caps, The Coca-Cola Company, Tellespen, GoPro, HOLT CAT, JBL, GEICO, Brookshire's Grocery Company, Kim's Convenience Stores, Academy Sports + Outdoors, Allied Waste Systems, Peoples Telephone Cooperative, TLC Media, Tyler Morning Telegraph, 105.7 KYKX, The Ranch KKUS 104.1, KMOO 99.9 and the Sabine River Authority.
For additional information, visit www.toyotatexasbassclassic.com or call (866) 907-0143.
For volunteer applications, visit http://www.toyotatexasbassclassic.com/wp-content/uploads/2015/03/2015-Volunteer-Application.pdf.