11th Annual Empty Bowls Houston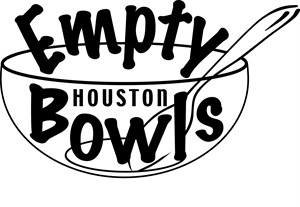 WHAT: Empty Bowls is an international effort to fight hunger, implemented in Houston to benefit the Houston Food Bank. The unique lunch fundraiser will be held Saturday, May 16, 2015, and is a collaboration between Houston area ceramists, woodturners and artists working in all media and Houston Center for Contemporary Craft. In its first 10 years, Empty Bowls Houston has raised $502,808 for the Houston Food Bank! (This equals 1,508,424 meals to the hungry!)
For a minimum $25 donation, attendees receive a simple lunch of soup and bread provided by Whole Foods Market, and then select a bowl from 1,000-plus one-of-a-kind, hand-crafted bowls donated by Houston area ceramists and craft artists. The empty bowls serve as a reminder of all the empty bowls in our community and the world. There are also larger bowls available at a higher price (lunch also included.)
Live music and artist demonstrations throughout the day.
WHEN: Saturday, May 16, 2015 ~ 11 a.m. to 3 p.m. * Soup served 11 a.m. until it runs out!
WHERE: Houston Center for Contemporary Craft, 4848 Main (77002)
WEBSITE: www.EmptyBowlsHouston.org
SPONSORS (to date): Whole Foods Market, Houston Center for Contemporary Craft, Ceramic Store, GoodPops, Archway Gallery, The Mad Potter, Waste Management, Katz Coffee, LD Systems
EMPTY BOWLS COMMITTEE: Chair – Renee LeBlanc; Andre Bally, Virginia Bally, Dorothy Broaddus, Tom Irven, Miriam Mendoza, Kay Nguyen, Samantha Oldham, Thomas Perry, Paula Murphy
WHOLE FOODS COMMUNITY GIVING DAY - Thursday, May 7, 10 am to 6 pm: Whole Foods Market will donate 5% of the day's net sales from its 7 metro Houston locations to Empty Bowls Houston: 4004 Bellaire Blvd.; 2955 Kirby Dr.; 701 Waugh Dr.; 11145 Westheimer; 6401 Woodway Dr; 1700 Post Oak Blvd; and 10133 Louetta Road in Champions area.
THE MAD POTTER GIVEBACK DAY – Saturday, April 11: The Mad Potter will donate 10% of all sales at their three Houston locations to Empty Bowls Houston! 1963-A West Gray (77019); 4882 Beechnut (77096); and 1341 S. Voss (77057). Also, now until May 1, The Mad Potter is giving 15% off painters' total bill when they come in and paint a bowl to be donated to Empty Bowls Houston; and until May 1, when you come in to paint a bowl for Empty Bowls Houston, The Mad Potter will give a 15% discount and waive studio fee. Also, for team building groups, for just $12 per person The Mad Potter will come to your location and bring all the supplies necessary to paint bowls for donation to Empty Bowls.
ARCHWAY GALLERY SPECIAL EXHIBITION & AUCTION, May 2-31: Archway Gallery is once again honored to be a part of the annual Empty Bowls fundraising endeavor. More than 30 finely crafted, one-of-a-kind bowls made of ceramic, wood, glass, and fiber, will be displayed in addition to the work submitted by Archway Gallery members including Tom Irven, Andy and Virginia Bally and Paula Haymond. All bowls will be available for purchase by silent auction throughout May, with the proceeds benefiting the Houston Food Bank. The public is invited to attend the opening reception/preview party on Friday, May 8, from 6 to 9 pm, to meet the artists, view these very special works, and begin bidding. Archway Gallery is located at 2305 Dunlavy (77006).