2015 Lexus NX 200t F Sport review notes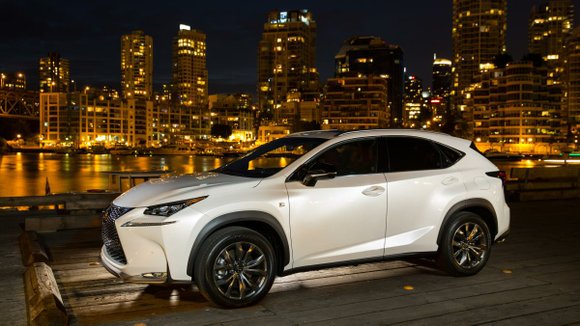 LEXUS' GOOD FIRST CRACK AT THE COMPACT LUXURY SEGMENT
EDITOR WES RAYNAL: I've been wanting to drive this since I saw it as a concept a couple Tokyo shows ago. I wondered: Can a Toyota RAV4 work as a luxury ute? I figured if any automaker could pull it off, Toyota could.
I have to say, the NX is a supremely quiet car overall; in fact, this is where it excels, as I expected. There's only the slightest road noise, the ride is comfortable (as I'm sure Lexus buyers demand) and it feels like nearly the perfect size -- not too big, not too small.
ON SALE: Now
BASE PRICE: $38,905
AS TESTED PRICE: $45,214
DRIVETRAIN: 2.0-liter turbocharged I4; AWD, six-speed automatic
OUTPUT: 235 hp @ 4,800-5,600 rpm, 258 lb-ft @ 1,650-4,000 rpm
CURB WEIGHT: 4,050 lb
FUEL ECONOMY: 22/27/24 mpg
(EPA City/Hwy/Combined)
OBSERVED FUEL ECONOMY: 22.3 mpg
The turbo four (Lexus' first turbo) has good power above 3,000 rpm and no hint of turbo lag as long as I kept the revs up. The steering is decent, while freeway speed stability surprised me -- in a good way. I guess maybe I thought it'd drive a bit more like the compact it is, a little jumpier or something; but no, it's nice and smooth. Push it a little and it understeers, but I expected that.
Interior build quality is high (again, as I'd expect) and driving position is excellent, as are the seats. Everything is within easy reach, but then remember, this is a RAV4-sized trucklet. The touch pad drove me mad -- it is way too sensitive, but you don't need to mess with it for controlling the radio and such because that can be done with steering-wheel buttons.
Lexus just keeps rockin' and rollin' with sales up nearly 4,000 units this year so far. The 8,386 Encores Buick sold in January and February trump the 5,478 NXs sold in the same period, but the NX beats the BMW X3 (4,465), Mercedes GLA (3,751), Audi Q3 (1,919) and Porsche Macan (1,420).
This is Lexus' first shot at a compact luxury ute, and I'd say it's a very good effort. It has the refinement and the certain reliability to be a winner, or at least a winner to Lexus buyers. Give it time -- I'm thinking by year's end, it's on the top of the heap.
For more information go to http://www.autoweek.com