Houston Public Library's Opening Reception for Maurice Sendak: 50 Years ● 50 Works ● 50 Reasons Exhibit
Celebrating the 50th Anniversary of the Children's Book "Where the Wild Things Are"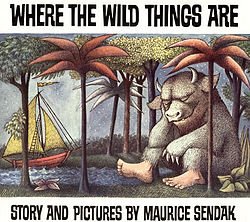 Houston Public Library's (HPL) Opening Reception for the Maurice Sendak: 50 Years ● 50 Works ● 50 Reasons Exhibit featuring live music by Houston's Indie Band Buxton, now on tour for their latest album, Half a Native! There will be food trucks, crown-making activity by Pop Shop Houston, and much more!
This event is free and open to the public. For more information about the exhibit and other Sendak programs happening at HPL neighborhood libraries, please visit www.houstonlibrary.org.
When: Wednesday, April 8, 2015 from 6 PM – 8 PM
Where:
Julia Ideson Building, 550 McKinney, 77002, 832-393-1662
Additional Information:
The Maurice Sendak: 50 Years ● 50 Works ● 50 Reasons Exhibit is now on display through May 2, 2015 at the Julia Ideson Building.
ABOUT THE EXHIBIT
This exhibit is a comprehensive memorial exhibition of 50 select works by the late Caldecott award-winning children's book author and illustrator with comments by celebrities, authors, and other noted personalities – celebrating the 50th anniversary of the publishing of the universally revered children's book "Where the Wild Things Are." The exhibit includes works in a variety of mediums including sketches, illustrations, works on paper, and showcases highlights from Sendak's career and the diverse art forms in which he was renowned. From children's literature to Broadway and the opera, from animated film to young adult textbooks – Sendak remained an iconic American illustrator and author, acclaimed around the world for his genius and insights. Since 2013, this exhibition has toured selected venues throughout the United States featuring works in a variety of media and has been organized by Opar, Inc.

About the Houston Public Library
The Houston Public Library (HPL) operates 35 neighborhood libraries, four HPL Express Libraries, a Central Library, the Houston Metropolitan Research Center, the Clayton Library Center for Genealogical Research, The African American Library at the Gregory School, and the Parent Resource Library located in the Children's Museum of Houston. Serving more than seven million customers per year in person and online, HPL is committed to excellent customer service and equitable access to information and programs by providing library customers with free use of a diverse collection of printed materials and electronic resources, Internet, laptop and computer use, and a variety of database and reference resources with live assistance online 24/7.
For further information, visit the Houston Public Library at www.houstonlibrary.org or call 832-393-1313.