Boehner calls for Obama to denounce violence on Cuban dissidents at summit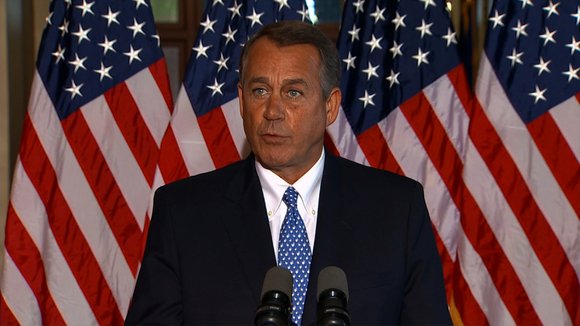 WASHINGTON (CNN) -- House Speaker John Boehner criticized the Obama Administration's move to normalize relations with Cuba and urged the President to denounce violence on pro-democracy demonstrators at a regional summit with foreign leaders in Panama this week.
"I hope that President Obama, if and when he has a conversation with the Cuban dictator during the Organization of American States summit, will take the opportunity to condemn this violence in the strongest possible terms and reaffirm that the United States should and must always stand on the side of human rights and democracy against Communist tyranny," Boehner said in a written statement on Thursday.
The President is expected to interact for the first time with Cuban President Raul Castro since his Administration removed many U.S. travel and trade restrictions on the country in December.
But Boehner seized on reports of clashes with critics of the Cuban government in Panama City, and said that Jorge Luis García Pérez, a human rights activist who attended this year's State of the Union as his guest, was among those who was assaulted by pro-Castro supporters.
The Speaker also warned that the State Department's recommendation to remove Cuba from the State Sponsors of Terrorism List could be premature.
He said the crackdown on protestors was a "outrage" and "raises serious questions about the wisdom of revisiting diplomatic relations with Cuba" and taking the country off the terrorism list while he said the Castro regime "practices repression at home and supports violence throughout the region, continues to hold power."
Removing Cuba from the list will allow other economic and political sanctions to be lifted.
Congress will have 45 days to try to block the President's move to de-list Cuba from the terrorism list, but senior House GOP leadership aides say no decisions have been made yet on how Congress will respond.
Later Wednesday, the U.S. government -- if not Obama himself -- is condemning violence against protesters in Panama.
"We are deeply concerned by reports of attacks targeting civil society representatives in Panama for the Summit of the Americas exercising freedom of speech," Acting State Department Spokeswoman Marie Harf said in a statement Thursday, "and harassment of those participating in the Summit of the Americas Civil Society Forum."
"We condemn those who use violence against peaceful protesters," she added.
Harf did not identify the protestors in her statement, but there have been reports in recent days of both pro and anti-goverment Cuban protestors at a civil society forum taking place ahead of the larger summit.
For more information go to http://www.cnn.com