Enzyme Cuts Path for T-cells to Fight Solid Tumors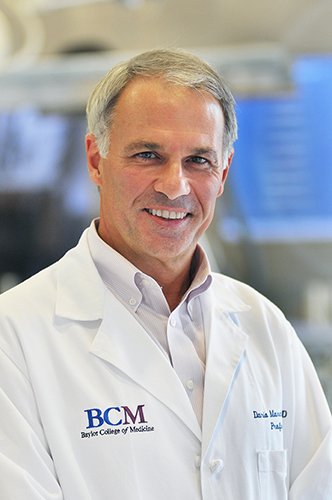 HOUSTON -- (April 13, 2015) – Chimeric antigen rector (CAR)-redirected T-cells specifically engineered to express the enzyme heparanase have an improved ability to infiltrate the extracellular matrix surrounding solid tumors – allowing the T-cells to infiltrate and shrink the tumors, said researchers from the NCI-designated Dan L. Duncan Cancer Center at Baylor College of Medicine. A report on the work in cell cultures and animals appears online in the journal Nature Medicine.
"We used heparanase as a molecular machete that cuts a path for these T-lymphocytes through the matrix or stroma," said Dr. Dario Marchetti, professor of pathology & immunology at Baylor and a lead author of this report. "That allows these T-cells that possess an increased cytotoxicity (cell killing abilities) to have better effects, improving therapy."
"Heparanase is the only enzyme that particularly targets a group of molecules called the heparan sulfate proteoglycans affecting the growth of tumors and the formation of blood vessels that feed them," said Marchetti. "We have taken advantage of abilities of heparanase to degrade these molecules and have engineered T-lymphocytes to have these abilities and be more invasive."
He and his colleagues – notably, the team of Dr. Gianpietro Dotti, corresponding author of the paper– used a model of a tumor called neuroblastoma in their work but he said that the experimental strategy to increase heparanase activity in CAR T-lymphocytes represents a proof-of-concept that can be applied to other solid tumors as well.
Others who took part in this work at Baylor include first author Ignazio Caruana; Barbara Savoldo; Valentina Hoyos; Gerrit Weber; Hao Liu; Eugene S. Kim; Michael M. Ittmann and corresponding author Dotti. Dotti and Savoldo recently joined the faculty of the University of North Carolina's Lineberger Comprehensive Cancer Center.
Funding for this work came from the National Institutes of Health-National Cancer Institute (G.D., Grant R01 CA142636) and by a Department of Defense and Technology and Therapeutic Development Award (G.D., PI, and D.M. Co-PI, Grant W81XWH-10-10425).
For more information, visit www.baylor.edu