Travel to the Top of a Texas Landmark with EarthCam's Live View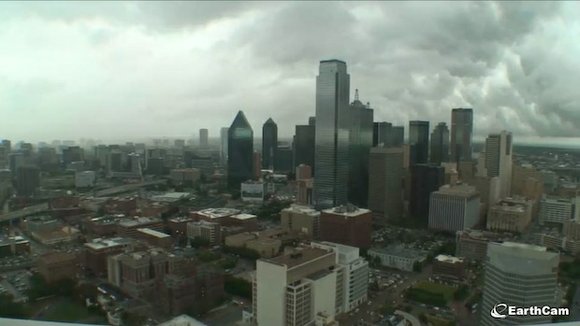 WHAT: As the popular Southern saying goes, the higher the tower – the closer to God. Well ... maybe that's not verbatim but regardless, travel 470 feet to the Reunion Tower's GeO-Deck with EarthCam's live streaming webcam – perfect for exploring Dallas and checking weather conditions!
WHY: Whether you live in Dallas or have yet to visit, EarthCam's camera at Reunion Tower gives you the chance to see the city from a new perspective.
HOW: Visit the city or broadcast live weather updates from 470 feet in the air with EarthCam's webcam at http://www.earthcam.com/usa/texas/dallas/reuniontower/.
On-air credit requirements:
EarthCam logo is not to be cropped out of the video, covered or altered in any way
On screen credit is given "Courtesy of EarthCam"
Verbal on air credit "Courtesy of EarthCam"
Connect with EarthCam!
Facebook: http://www.facebook.com/earthcaminc
Twitter: http://www.twitter.com/earthcam
Instagram: @EarthCamTV
YouTube: http://www.youtube.com/earthcam
LinkedIn: http://www.linkedin.com/in/earthcam
Pinterest: http://www.pinterest.com/earthcaminc
BuzzFeed: http://www.buzzfeed.com/earthcam
ABOUT EARTHCAM
EarthCam is the global leader in delivering webcam content, technology and services. Founded in 1996, EarthCam provides live streaming video and time-lapse construction cameras for corporate, tourism and government clients in major cities around the world. EarthCam's revolutionary gigapixel camera systems deliver superior billion pixel clarity for monitoring and archiving the world's most important projects and events. EarthCam's all-weather webcams, innovative software and mobile applications enable users to showcase unique views, increase exposure and generate positive public relations.
The Webby Award winning company hosts many highly trafficked tourism cams, with views of popular locations and landmarks such as Times Square, World Trade Center, Las Vegas Strip, Bourbon Street, Eiffel Tower, Andy Warhol's gravesite, Hollywood Boulevard, Miami Beach, Atlantis the Palm Dubai, Petra in Jordan and Abbey Road Crossing in London.
To experience more of EarthCam, visit www.earthcam.com or download the Webcams app on your mobile device.