The Ensemble Theatre's Act One Young Professionals Present Drama-try: A Night of Dramatic Poetry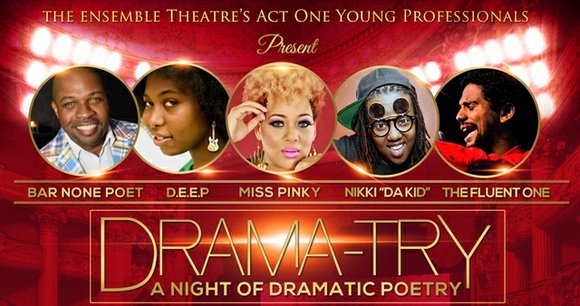 HOUSTON (April 13, 2015) –- The Ensemble Theatre's Act One young professionals celebrate National Poetry Month with Drama-try: A Night of Dramatic Poetry, Saturday, April 18, 2015, 7:00 p.m.
"Houston has a wealth of talented performance poets," says Pamela Ulmer, Act One Chair. "We are excited about our partnerships and appreciative of all the poets who lend their talents each year to our celebration of National Poetry Month and raising awareness about The Ensemble Theatre as one of Houston historical cultural treasures."
Act One is in its fourth year of outreach to introduce younger patrons to The Ensemble Theatre to enhance cross generational support. In 2014, Act One began using a portion of the proceeds from Drama-try to donate its first scholarship in support of the theatre's Young Performers Program, a performing arts education program for youth ages 6-17.
"The Ensemble Theatre is a hip, cool, and welcoming space for artists, patrons, and the community in general, says Henry Mosley, Act One Co-Chair.
Drama-try: A Night of Dramatic Poetry
The Ensemble Theatre –Performance Centre
3535 Main St. (Fannin and Berry St. Entrance)
Saturday, April 18, 2015, 7:00PM
Advance Tickets: $15: all tickets $20 at the door
Tickets Available Online: http://EnsembleHouston.com/ActOne/index.html
713-520-0055
Drama-try emcee for the evening will be Miss Pinky, a local poet, model, emcee, vocalist and actress, originally from Little Rock, Arkansas, whose stage presence and charisma have garnered her growing recognition in Houston and other cities across the U.S. As a poet and emcee she has opened for and interviewed several nationally known artists and public figures such as Tyrese, Pimp C, Chrisette Michelle, Marsha Ambrosius, Sinbad, Mayor Landrieu of New Orleans, Roland Martin, Alicia Keys, Robin Roberts, Rev. Al Sharpton, and more. Her modeling has led her down runways in the BIG GIRLS ROCK 2 Fashion Show & LS1426, Houston, TX; Curve Nation First Annual Plus Size Expo, Orlando, Florida; and FULL FIGURED FASHION WEEK 2014 in Manhattan, New York. She has been widely recognized for her acting, dancing, and singing talents as she personified the role of Etta James, and her performances as Chaka Khan, one of the Pointer Sisters, Tammi Terrell, and more for several years in the Houston Miller Outdoor Theatre Motown Revue. She is active in the community and supports Walk to End Lupus, AIDS Walk Houston, , and an international charity organized to support those in the fight against cancer, PSN (Power Source Network).
Featured poets for the evening include:
Deborah "D.E.E.P" Mouton an internationally-known poet/vocalist/songwriter. She published her first poetry anthology, "Heartstrings and Lamentations," at the age of 19. In addition to having a B.A. in English from the University of Michigan and a M.Ed from the University of St. Thomas, she served as the head coach of the Best Ranked Poetry Slam Team in Texas, the Houston VIP National Poetry Slam Team. She has traveled across the continent writing, performing, and leading workshops. Formerly ranked as the #2 Best Female Performance Poet in the World, she has also been a Juried Poet for the Houston Poetry Festival (2012) and a Finalist for the Southern Fried Regional Poetry Slam (2013). Her work can be found in Wicked Banshee Press, Alight, and the 2010 Houston Poetry Fest Anthology.
LaShonda "Nikki Da Kidd" Williams, a native Houstonian and 2003 graduate Dwight D. Eisenhower where she realized her purpose to entertain through Spoken Word. In 2006, she started performing weekly at the Shadow Bar, one of Houston's early poetry spots that relocated to The Bamboo Lounge where she began co-hosting. The weekly poetry showcase at Bamboo most recently transitioned to Sugar Hill where she continues to out her dreams. Nikki Da Kidd has been given great opportunities to travel and share her gift in popular cities in Texas such as Beaumont, Lubbock, San Antonio, and Port Arthur. On September 26, 2010, she released her first poetry album, "Growing Process." She also released her first published book "100% Truth" in 2013 which consisted of 100 poems. Nikki is also very active in her community. She is a supporter of the homeless project and AIDS Foundation. Nikki Da Kidd is a daughter, sister, a friend, a visionary, and most of all; a POET.
Bar None (Jimar Proctor) is recognized as one of the forerunners of the Houston poetry movement by his peers and acid poetry supporters. Raised in Houston's 5th Ward with a graduate level education, Bar None's poetry resonates from the heart of the ghetto with the depth, wisdom and knowledge of a college professor. Bar None's wide range of life experiences, which are expressed through his poetry, provides a unique content balance that captures the minds and imagination of all listeners despite age, social and economic stratifications. Bar None's poetry inspires, uplifts, educates, fascinates, provokes thought and outright entertains audiences!!
Jeremyah "The Fluent One" Payne is a graduate of Prairie View A&M University. It was there where he began writing and performing spoken word under the umbrella of competitive poetry slam. As a member of the Prairie View Productive Poets, the team finished 8th in the nation that year. Since then he has competed individually and with the Houston VIP slam team around the country. A three time grand slam champion of Houston, current Texas Grand Slam champion, and 18th in the world, Jeremyah is an experienced purveyor of story and captivation. The stage name The Fluent One derives from his multiple creative disciplines and ability to excel within them.
Act One was created as a way to unite The Ensemble Theatre's growing community of young artists and professionals with an increasing interest in how they can contribute to sustaining the institution. Act One members are recognized as the theatre's next generation of leaders who will support the theatre's annual season ticket membership campaign, as well as, and volunteer and fundraising support.
The Drama-try host committee includes: Timothy Armstrong, Donna Anderson, Erika Alexander, Niya Blair, Andrea Browne, Cathy Coleman, Cedric Bandoh, Tracy Guillory, Leigh Johnson, Mark Martin, Tonnette Martin, Carl McGowan, Henry Mosley, Larry Oneal, Angela Randolph, Robert Ross, Crystal Solomon, Michelle Stephenson, Keinon Stewart, Sondra Tennessee, Pamela Ulmer, Courney Wilkerson, and Marketa Wills.
The Ensemble Theatre's 2014-2015 Season is sponsored in part by grants from the City of Houston through the Houston Arts Alliance, Texas Commission on the Arts, and the National Endowment for the Arts. United Airlines is the official airline sponsor for The Ensemble Theatre.
The Ensemble Theatre was founded in 1976 by the late George Hawkins to preserve African American artistic expression and to enlighten, entertain, and enrich a diverse community. Thirty-five years later, the theatre has evolved from a touring company operating from the trunk of Mr. Hawkins' car to being one of Houston's finest historical cultural institutions.
The Ensemble is one of a few professional theatres in the region dedicated to the production of works portraying the African American experience. The oldest and largest professional African American theatre in the Southwest, it holds the distinction of being one of the nation's largest African American theatres owning and operating its facility and producing in-house. Board President Emeritus Audrey Lawson led the capital campaign for The Ensemble's $4.5 million building renovations that concluded in 1997. The Ensemble Theatre has fulfilled and surpassed the vision of its founder and continues to expand and create innovative programs to bring African American theatre to a myriad of audiences.
For more information, visit www.ensemblehouston.com/‎