The Ensemble Theatre's Act One Young Professionals Present Drama-try: A Night of Dramatic Poetry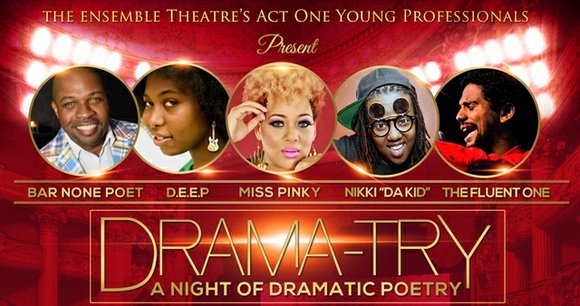 HOUSTON (April 13, 2015) –- The Ensemble Theatre's Act One young professionals celebrate National Poetry Month with Drama-try: A Night of Dramatic Poetry, Saturday, April 18, 2015, 7:00 p.m.
"Houston has a wealth of talented performance poets," says Pamela Ulmer, Act One Chair. "We are excited about our partnerships and appreciative of all the poets who lend their talents each year to our celebration of National Poetry Month and raising awareness about The Ensemble Theatre as one of Houston historical cultural treasures."
Act One is in its fourth year of outreach to introduce younger patrons to The Ensemble Theatre to enhance cross generational support. In 2014, Act One began using a portion of the proceeds from Drama-try to donate its first scholarship in support of the theatre's Young Performers Program, a performing arts education program for youth ages 6-17.
"The Ensemble Theatre is a hip, cool, and welcoming space for artists, patrons, and the community in general, says Henry Mosley, Act One Co-Chair.
Drama-try: A Night of Dramatic Poetry
The Ensemble Theatre –Performance Centre
3535 Main St. (Fannin and Berry St. Entrance)
Saturday, April 18, 2015, 7:00PM
Advance Tickets: $15: all tickets $20 at the door
Tickets Available Online: http://EnsembleHouston.com/ActOne/index.html
713-520-0055
Drama-try emcee for the evening will be Miss Pinky, a local poet, model, emcee, vocalist and actress, originally from Little Rock, Arkansas, whose stage presence and charisma have garnered her growing recognition in Houston and other cities across the U.S. As a poet and emcee she has opened for and interviewed several nationally known artists and public figures such as Tyrese, Pimp C, Chrisette Michelle, Marsha Ambrosius, Sinbad, Mayor Landrieu of New Orleans, Roland Martin, Alicia Keys, Robin Roberts, Rev. Al Sharpton, and more. Her modeling has led her down runways in the BIG GIRLS ROCK 2 Fashion Show & LS1426, Houston, TX; Curve Nation First Annual Plus Size Expo, Orlando, Florida; and FULL FIGURED FASHION WEEK 2014 in Manhattan, New York. She has been widely recognized for her acting, dancing, and singing talents as she personified the role of Etta James, and her performances as Chaka Khan, one of the Pointer Sisters, Tammi Terrell, and more for several years in the Houston Miller Outdoor Theatre Motown Revue. She is active in the community and supports Walk to End Lupus, AIDS Walk Houston, , and an international charity organized to support those in the fight against cancer, PSN (Power Source Network).
Featured poets for the evening include:
Deborah "D.E.E.P" Mouton an internationally-known poet/vocalist/songwriter. She published her first poetry anthology, "Heartstrings and Lamentations," at the age of 19. In addition to having a B.A. in English from the University of Michigan and a M.Ed from the University of St. Thomas, she served as the head coach of the Best Ranked Poetry Slam Team in Texas, the Houston VIP National Poetry Slam Team. She has traveled across the continent writing, performing, and leading workshops. Formerly ranked as the #2 Best Female Performance Poet in the World, she has also been a Juried Poet for the Houston Poetry Festival (2012) and a Finalist for the Southern Fried Regional Poetry Slam (2013). Her work can be found in Wicked Banshee Press, Alight, and the 2010 Houston Poetry Fest Anthology.