National Child Abuse Prevention Month Reminds Us of the Serious Effects of Negative Parenting—and of the Need for Big Change
As we move through National Child Abuse Prevention Month this April, Marianna Klebanov points to new research that explains just how deep the effects of bad parenting actually are—and calls for signi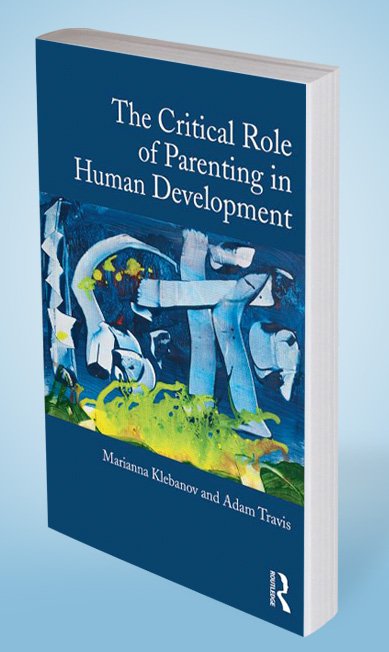 San Francisco, CA (April 2015)—As we go through National Child Abuse Prevention Month, many of us will see eye-opening stories and public service announcements on social media. We may also sign our names to petitions, and even donate what we can afford to support organizations that advocate for children's well-being.
But according to Marianna S. Klebanov, JD, efforts like these aren't nearly enough. It's crucial, she says, that child abuse prevention not become an issue that's placed on the back burner until next April rolls around. Instead, let's use this awareness month as a springboard to make important countrywide changes.
"When children experience abuse—which isn't just severe neglect and trauma, but also includes common practices like spanking and leaving babies to cry—the seeds for serious long-term damage are sown," says Klebanov, coauthor along with Adam D. Travis of The Critical Role of Parenting in Human Development (Routledge, 2014, ISBN: 978-1-138-02513-4, $46.95, www.anewconversationonparenting.com). "Child abuse doesn't impact only individual children, either. By failing to take a much harder line on ending child abuse, we're hurting schools, the economy, and society as a whole."
While we all intuitively understand that negative parenting has a far-reaching and hurtful ripple effect, now, for the first time, scientific research is proving just how serious the consequences are.
Among a host of scientific studies on these issues, Klebanov points to research from the Washington University School of Medicine, which shows that children of nurturing mothers have much larger, healthier brains. Furthermore, the hippocampi of neglected children were up to 10 percent smaller than those of children with caring, loving mothers. This is significant, because the hippocampus is responsible for memory, stress control, learning, and other cognitive tasks. (See the image below from Bruce Perry, MD, PhD, for a comparison.)
"The research is very clear," Klebanov points out. "It's practically screaming that we have to do a better job of educating parents and of protecting children."
Believe it or not, the United States is one of only two members of the United Nations not to ratify the Convention on the Rights of the Child, which sets out the civil, political, economic, social, health, and cultural rights of children—including "the right to protection from corporal punishment and other cruel or degrading forms of punishment." (The other country not to ratify the convention is South Sudan.)
Read on for 10 ways in which negative parenting affects children throughout their lives (and 10 reasons why it's imperative that our society significantly ramps up its response to child abuse):
Parenting affects intelligence and education. As Klebanov has pointed out, a parent's nurture (or lack thereof) affects the growth of children's brains, as well as their ability to learn. Research has also amply demonstrated that children who receive corporal punishment (yes, this includes spanking) score lower on IQ tests and other tests of cognitive ability.
"The bottom line is, a child who is subject to any level of abuse, mistreatment, or neglect will often grow up with lower intelligence levels and cognitive strength—consequences that obviously have a detrimental effect on his or her education," Klebanov explains. "Childhood trauma also impacts social and emotional intelligence, thus leading to relationship problems that additionally limit educational advance¬ment, success, and accomplishment."