National Child Abuse Prevention Month Reminds Us of the Serious Effects of Negative Parenting—and of the Need for Big Change
As we move through National Child Abuse Prevention Month this April, Marianna Klebanov points to new research that explains just how deep the effects of bad parenting actually are—and calls for signi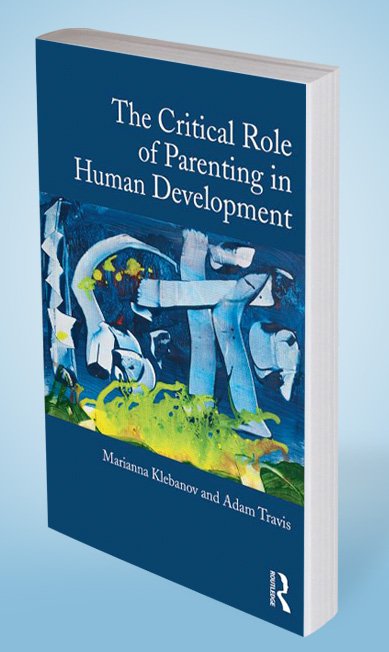 Parenting affects addiction. Studies have shown that adverse childhood experiences lead to an increase in addictive behaviors. Parental substance abuse, as well as the need to dull the pain caused by one's own childhood maltreatment, may lead to substance abuse in the victimized individual. Frequently, children of substance abusers themselves replay their parents' patterns.
"Whatever its cause, it's no secret that substance abuse often leads to serious lifelong problems that impact individuals and society as a whole," Klebanov says. "These problems include health issues, emotional limitations, obsessions and compulsions, serious financial issues, an inability to take responsibility for one's actions, destroyed relationships, anger and/or violence, a lack of productivity, an inability to responsibly manage family obligations, and more."
Parenting affects relationships. The relationship between a child and his or her parents serves as the foundation for all of that child's future relationships. Infants and small children need to experience love and positive attachment behaviors from their primary caregivers in order to conduct relationships optimally throughout life. If these things are not present, children may grow up to be too needy or attached, too critical, withdrawn, unreliable, inconsiderate, and more as they recreate the earliest relationship they experienced.
"How many of us suffer because of negative relationships?" asks Klebanov. "We read relationship guides, we wonder why we continue to repeat the same patterns, we suffer continued discord, we suffer through the emotional pain and economic struggle of divorce, we live through continuing failed relationships or failed friend¬ships, and we take on jobs where our coworkers and bosses treat us inappropriately. All the time, we are unknowingly recreating patterns that developed in our brains when they were most plastic and forming their primal connections."
Parenting affects physical health. Childhood trauma is proven to cause numerous physical illnesses and disorders including cancer, severe obesity, ischemic heart disease, chronic lung disease, skeletal fractures, and liver disease. It can lead to accelerated aging and inflammation, and has also been linked to chemical sensitivities and allergies, autoimmune diseases, and osteoarthritis.
"Unfortunately, these links are not general public knowledge," Klebanov comments. "But they are so impressive that when they are more widely disseminated, they have the potential to make a significant positive social impact. As a practical matter, the reduction of child abuse and neglect in various forms will lead to a decrease in physical illness and to a generally healthier society and culture. And in terms of policy, increased funding for effective parental education and therapeutic programs would lead to enormous reductions in healthcare costs, as well as a generally less ill, more energetic, more productive society."
Parenting affects personal economics and the economy as a whole. Children whose parents are strict about money and anxious about not having enough (whether because of actual circumstances or due to fear-driven thriftiness) grow up in an environment of limitation and stress, which may impact the child's status with peers, ability to concentrate on studies, and feelings of anxiety.
Believe it or not, the negative impact of a parent's financial concerns can begin even before birth. For example, if a pregnant mother is concerned about the cost of raising the child she is carrying, this concern will reflect itself in the stress hormones and chemicals that are released into the body she shares with the child.