Celebrate Mother's Day with the Museum of Fine Arts, Houston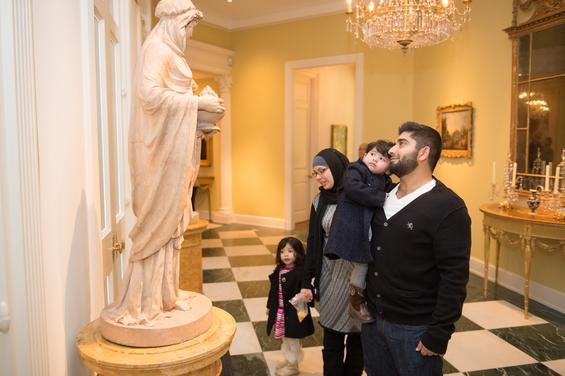 Description: This Mother's Day, celebrate at the Museum of Fine Arts, Houston. Visit the main campus to explore several exhibitions currently on view, and stop by the MFAH house museums, Bayou Bend and Rienzi, to enjoy a range of activities, programs, and special offers for moms.
Visit www.mfah.org/calendar for a full schedule of activities taking place during Mother's Day weekend.
Where: Main Campus, 1001 Bissonnet Street
Rienzi, 1406 Kirby Drive
Bayou Bend Collections and Gardens, 6003 Memorial Drive at Westcott Street
Programs: Mother's Day Tours of Rienzi
Rienzi, 1406 Kirby Drive
Sunday, May 10, from 1 to 3 p.m.
Enjoy an afternoon touring the Rienzi Collection and Gardens. Originally the home of arts patrons Carroll Sterling Masterson and Harris Masterson III, Rienzi comprises a remarkable collection of art, decorative arts, and paintings made from the 17th to mid-19th century. Moms enjoy complimentary admission and a fresh flower to take home.
Music for Mother's Day by Houston Grand Opera Studio
Rienzi, 1406 Kirby Drive
Thursday, May 7, at 7:30 p.m., and Sunday, May 10, at 5 p.m. Continuing its collaboration with Houston Grand Opera Studio artists, Rienzi presents several evening recitals in its intimate galleries. Audiences will have the opportunity to experience the exceptional talent of these up-and-coming artists. A reception of wine and sweets follows each performance. Admission is $40 per person, including valet parking. Purchase tickets in advance at www.mfah.org/calendar.
Mother's Day Weekend at Bayou Bend
Bayou Bend Collections and Gardens, 6003 Memorial Drive at Westcott Street
Saturday, May 9, and Sunday, May 10, from 1 to 4 p.m. Bayou Bend offers special admission and amenities for its guests on Mother's Day. Admission is free for mothers and grandmothers, while everyone in her group receives a discounted admission price of $10 for adults, $5 for children ages 10 to 17, and free for children 9 and under. Enjoy a complimentary cookie and a glass of lemonade at Bayou Bend's Lora Jean Kilroy Visitor and Education Center. While at the center, listen to live music and shop for treasures at The Shop at Bayou Bend, which offers specials on gift items for Mom. No reservations necessary.
MFAH Film: Song of the Sea Brown Auditorium Theater / Caroline Wiess Law Building, 1001 Bissonnet Sunday, May 10, at 1 p.m. and 5 p.m. From the filmmakers who made 2009's highly regarded The Secret of the Kells comes this animated tale of selkies – mythical women who transform from seals to human – based on Irish and Scottish legends. Ben lives with his father, Conner, and mute baby sister, Saoirse, in a lighthouse on the coast. The children's beloved mother is a selkie and when she disappears, they are sent to their grandmother's in Dublin. The intrepid duo and their faithful dog set out on a journey through magical realms to find their mother, and along the way learn more about themselves. Admission is $9 for the general public and $7 for MFAH members, senior adults, and students with I.D.
Sunday Family Zone + Studio: "A Modern Take on the Natural World"