Mamma Mia: The Story of Finding Your True Self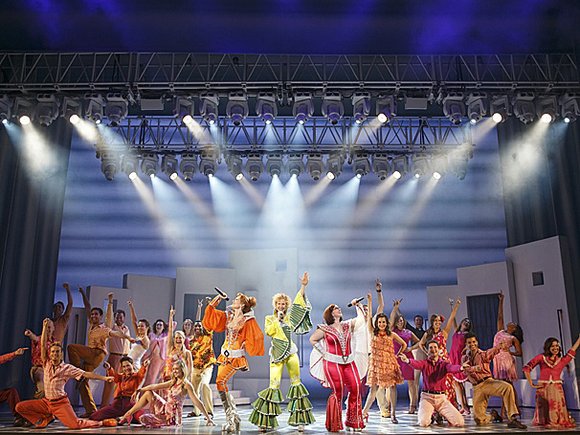 Have you ever wished to find your true self? or Refuse to deal with embarassing secrets from your past?
Momma Mia, the global smash hit musical centers around a young lady, who while in the midst's of planning a fantasy Greek wedding sets on a mission to find her real father in hopes he can walk her down the aisle. She schemes up a plan to invite all possible fathers, but on the journey of finding her real dad she begins her own path of self-discovery! Mamma Mia is a wonderful story of finding your true self and it connects with all of us who have struggled with our past.
Mamma Mia, directed by the accomplished Brit Phyllida Lloyd, features a talented cast of actors and actress. Stands out in the show are main characters: Sydney-born vocalist Georgia Kate Haege (Donna) with unforgettable vocals, Bailey Purvis (Tanya) Baton Rouge native whose perfect, comedic timing and cute, southern drawl stole every scene, and actress Chelsea Williams (Sophia), whose great performance delighted the audiences with much charisma and charm. The production also features an array of young talented actors and dancers including: the talented Olivia Ashley Reed (Lisa), Tony Tillman (Eddie) and P. Tucker Worley (Pepper). These break out young performers continued to add a sense of wit, fun, and zealous energy throughout the entire production. The costumes designed for the production were very fabulous, and vintage in design and style. Many of the costumes featured were fun, seventies, disco- inspired creations.
I wasn't to impressed by the very simple set at first, however with a production as colorful and whimsical as Mamma Mia, I thought the simple set was very clever and Mark Thompson- the Production Designer staged a perfect production last night.
I was highly impressed with this remarkable show on opening night. First night's performance ended with a well- deserved standing ovation, including three enthusiastic encore performances by the cast. You will leave the theatre highly entertained. This was a treat especially for fan's of the Swedish, pop band ABBA who rose to fame in the seventies and has managed to sell over 380 million albums worldwide. I witnessed many fans through out the audience who sang and clapped along to many of ABBA's greatest s hits. If you are indeed a real ABBA Fan, you would be delighted to know that all of the songs featured in Mamma Mia are hit songs from the Swedish Band ABBA. Musical hit classic songs you may recognize include: "Dancing Queen" "Knowing Me", Knowing You", "Lay All Your Love On Me", "S.O.S." "Super Trouper", "Money, Money, Money", "Take a Chance on Me", "Thank You for the Music", "Voulez Vous", and of course the title track "Mamma Mia".
Mamma Mia is currently on tour and it is playing now at the Hobby Center here in Houston until April 19th. I would suggest getting your tickets now, especially if you're a fan of 70's pop music and Dance. This is a recommendation for the entire family including the kids! You wont be disappointed!
For more information, visit www.mamma-mia.com/‎