Memorial Hermann's "Hoopla" Raises $3.3 Million for Orthopedics and Sports Medicine Programs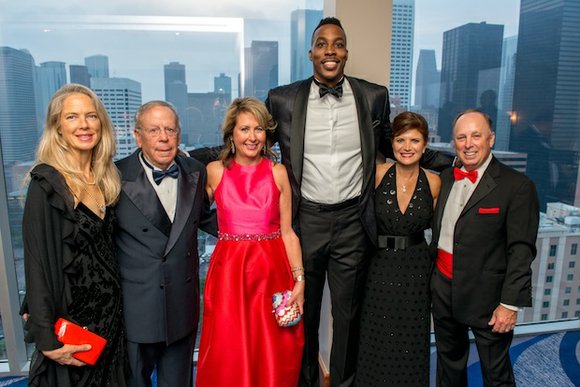 HOUSTON (April 14, 2015) – On Saturday, April 11, 2015, the Memorial Hermann Foundation hosted its annual Circle of Life Gala, chaired by Houston Rockets Owner Leslie Alexander and the Houston Rockets at the Hilton Americas Hotel. The record-breaking, sold-out event raised $3.3 million with more than 1,800 guests in attendance. Proceeds from the event benefit Memorial Hermann's orthopedics and sports medicine programs, under the direction of Walter Lowe, M.D., medical director of the Memorial Hermann IRONMAN Sports Medicine Institute and professor and chairman of the Department of Orthopedic Surgery at UTHealth Medical School. Dr. Lowe is also the official head team physician and preferred orthopedic surgeon for the Houston Rockets.
"We are excited and honored to have had the privilege to partner with Leslie Alexander and the Houston Rockets this year in support of something from which the whole community can benefit," said Memorial Hermann President and CEO Dan Wolterman. "This year's gala benefited our comprehensive orthopedic and sports medicine programs as part of our commitment to expand and further enhance our unique capability to provide orthopedic, orthopedic trauma and sports medicine care to the Greater Houston area."
The gala honored Memorial Hermann board member, civic leader and philanthropist Steve Trauber and his wife, Leticia. The dynamic couple was honored for their dedication to Memorial Hermann's mission to advance health.
"We could not be more delighted to be honored this evening. We are constantly impressed with Memorial Hermann's quest to provide outstanding quality care to patients from around the world," Leticia shared at the event.
"The Houston Rockets are proud of their long standing relationship with Memorial Hermann and were thrilled to chair this year's gala," said Alexander. "This year's basketball theme for the gala and the participation of our players, coaches and management made for a spirited evening for donors, beneficiaries, honorees and Rockets fans in attendance."
The crowd was mesmerized by the "Hoopla" and energetic entrance of the Rockets players introduced by team announcer, John Paul. Following a delicious dinner, the audience filled the dance floor and enjoyed music from Atlanta-based band Simply Irresistible, which included more than 40 performers. Opulent floral basketball hoops, created by A Memorable Event, adorned the ballroom. In keeping with the basketball theme, guests received wristbands and headbands to accent the festive affair. The Circle of Life Gala was once again one of the most entertaining and exciting events of the year.
Representing the Houston Rockets were players Dwight Howard, James Harden, Trevor Ariza, Corey Brewer, Patrick Beverley, Clint Capela, Nick Johnson, Terrence Jones, Kostas Papanikolaou, Pablo Prigioni, Joey Dorsey, Josh Smith and KJ McDaniels.
Houston Rockets Owner Leslie Alexander, CEO Tad Brown, General Manager Daryl Morey, Head Coach Kevin McHale, Assistant Coach Chris Finch, Director of Performance Rehabilitation and Associate Athletic Trainer Jason Biles, Head Strength and Conditioning Coach Joe Rogowski, Strength and Conditioning Coach Javair Gillett, Player Development Coach Greg Buckner, Houston Rockets' beloved mascot Clutch the Bear, and the Rockets Power Dancers also attended the event. Even former Houston Rockets player Clyde Drexler came out to celebrate the evening.