Creole Nature Trail Adventure Point Grand Opening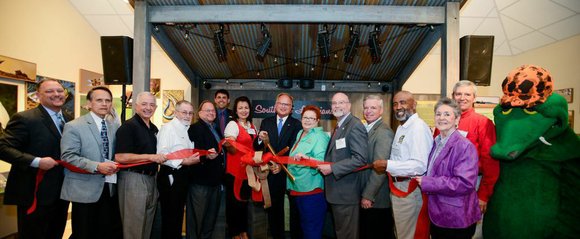 The culinary interactive display showcases boudin, with an endless boudin stuffer that visitors can manipulate, as well as smells of Creole and Cajun cooking and sounds of a boiling pot of delicious crawfish. Visitors are encouraged to take a recipe from a recipe box on the counter.
The Gulf Coast is represented with a marine life exhibit where visitors can try their hand at crabbing, learning how to tie a knot and guessing how many fish a pelican can hold in its mouth. There are also educational representations of the swamp and prairie lands.
Visitors can experience a grand finale by performing on a music stage where they can pretend that they are playing along with Cajun and Zydeco tunes. The center piece is an accordion which ties the two different genres of music together, and everyone can sound like a professional musician as they play the bass, scrub board, accordion, fiddle and steel guitar.
Creole Nature Trail Adventure Point New Attraction in Southwest Louisiana
Creole Nature Trail Adventure Point is a fun, free attraction along the western gateway of the Creole Nature Trail All-American Road, which is geared toward an educational, immersive experience showcasing the culture, food, music and outdoor adventures to be had in Southwest Louisiana. The facility also houses the satellite office of the Southwest Louisiana Convention & Visitors Bureau.
Adventure Point offers visitors from around the country and world an opportunity to sample a taste of what they can see and do in the area while interactive, hands-on exhibits highlight the unique estuary system of the Creole Nature Trail All-American Road, one of 42 All-American Roads in the United States.
"While the Creole Nature Trail All-American Road is a destination unto itself, research shows that people are seeking authentic experiences when they travel. Much of what visitors see and experience along the trail, they cannot fully understand without a comprehensive orientation such as the exhibits offered at Adventure Point. The interactive displays are meant to be memorable, entertaining and educational, and we are thrilled to have an opportunity like this in our area so that others can embrace our unique culture and landscape before experiencing it for themselves," said Shelley Johnson, executive director of the CVB.

After Hurricane Rita destroyed the visitor center at the Sabine National Wildlife Refuge in 2005, there were no visitor services on the western side of the Creole Nature Trail. After many years of working to get the center rebuilt, and then, Hurricane Ike occurring in 2008, plans were put into motion to create Creole Nature Trail Adventure Point, closer inland.
"It's difficult to believe, but nearly 10 years after Hurricane Rita, the dream of having an immersive interpretive center along the western side of the trail is realized," said Johnson.
"With the growth of the hotel community throughout our parish, it was wise to reinvest in local tourism, especially on a project like the Creole Nature Trail Adventure Point which promotes visitation to both Calcasieu and Cameron parishes," said Mike Dees, CVB building committee chairman for the project.