Dallas Native Retires from NFL and Celebrates Birthday by Giving Back!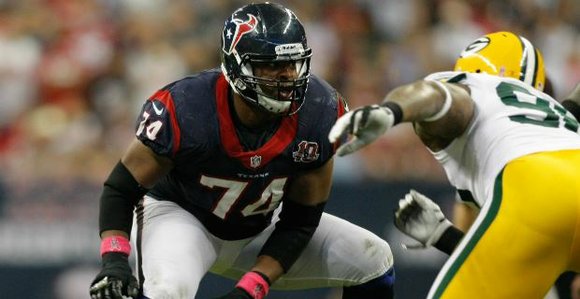 DALLAS, TX - Dallas native, NFL veteran and Pro Bowler, Wade Smith, will celebrate his birthday with The Wade Smith Foundation (WSF) through a weekend of giving back. Wade will return to his roots and kick off the weekend with the WSF staple program, 'Reading with the Pros', Friday, April 24th at Lake Highlands Elementary (9501 Ferndale Rd.) from 8 am to 9:15 am, then on to Hamilton Park Elementary (8301 Towns St.) from 9:30 am to 10:45 am and closing it out at Wallace Elementary (9921 Kirkhaven Dr.) from 12:30 pm to 1:50 pm. NFL players and celebrities will join Wade to read to students and host an interactive discussion to discuss the importance of literacy and education.
Confirmed NFL players who will join Wade to help celebrate his birthday and raise money for the Wade Smith Foundation are Derek Newton (Houston Texans), Patrick Crayton (Former Dallas Cowboy), Edwin Harrison (CFL Calgary Stampeders), Stanley Bryant (CFL Calgary Stampeders), Quinton Demps (New York Giants), Shaun Smith (Former Dallas Cowboy), Amobi Okoye (Dallas Cowboys), Antoine Caldwell (Former Houston Texan), Ahmad Hall (Former Tennessee Titan/UT Grad), Frank Okam (Former Houston Texan/UT Grad/LH Grad), Chris Ogbonnya (New York Giants), Steven Octavien (former Dallas Cowboy/Cleveland Brown), Bethel Johnson (former New England Patriot/New Orleans Saint/Minnesota Viking), Rodney Bradley (former NFL player), Dexter Ford (former Baylor Bear) and Ken Hamlin (Former Dallas Cowboy)
Friday night (April 24th)celebrities will then hit the red carpet to help raise funds for the foundation during 'Passport to Literacy Night' at the Chase Building Sky Lobby (2200 Ross Ave.) from 7 to 10:30 pm. Wade will honor Community game changers: Dr. Robert Iden, Frank Okam and Evelyn Dickerson.
Wade will then team up with many of the elite NFL current and former players, along with Lake Highlands coaches, alum, professional dancers and cheerleaders on Saturday, April 25th from 9 am to 1 pm at Lake Highlands Family YMCA (8920 Stults Rd.) for a special Football and Cheer camp for youth in grades K-6.The clinics are FREE and all interested parents should visit www.wadesmithfoundation.org/wadesweekend/.
Wade says, "The Wade Smith Foundation is excited to bring together The Who's Who of Dallas for an exciting weekend of fun, all in the name of charity. Our children are the most important assets in the world today and investing in the future success of generations to come is paramount. I'm really excited that we can do so much in a fun environment and pay it forward to our future leaders of America." WSF's mission is to facilitate the growth of today's youth by providing them with the necessary tools to improve their overall development as young adults. Since 2012, WSF has been regenerating fun and excitement in education and literacy, providing students and families with both encouragement and support in pursuing their goals and living their dreams through education, memorable experiences and valuable opportunities.
About The Wade Smith Foundation: The Wade Smith Foundation was established in 2012, founded by a Dallas native, 12-year NFL veteran, and Pro Bowl left guard, Wade Smith. The Wade Smith Foundation (WSF) provides support for youth and community programs in childhood literacy and education, an annual scholarship program, and both memorable experiences and opportunities to cultivate and encourage the dreams and goals of deserving children and families. Please visit www.wadesmithfoundation.org