Rubio, Kirk: No nuclear deal unless Iran releases reporter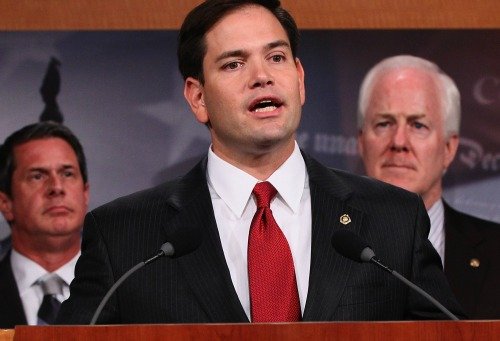 WASHINGTON (CNN) -- Republican Sens. Marco Rubio and Mark Kirk called on Monday for the Obama administration to tie any agreement on Iran's nuclear program to the release of a Washington Post reporter and other Americans imprisoned there.
Rubio, the Florida senator who announced this month his candidacy for president, and Illinois' Kirk said the Obama administration should "demand" their release "prior to concluding a nuclear deal with this brutal regime."
The senators' call came as Washington Post reporter Jason Rezaian was officially charged with espionage and several other crimes against the Iranian state, his lawyer announced Monday, nine months after Rezaian was jailed.
"This case is just the latest example of the true nature of the Iranian regime," Rubio and Kirk said in the statement Monday.
It's not the first time Rubio, Kirk and other Republicans have called on President Barack Obama and his team of negotiators to wrap the issue of Americans imprisoned in Iran into the nuclear negotiations.
Rubio and Kirk led 19 other GOP senators in penning a letter in March to Secretary of State John Kerry, urging Kerry to bring up the cases of Rezaian and several other Americans jailed in Iran in discussions with Iranian negotiators.
Republicans, who are virtually unified in opposition to the direction of negotiations with Iran, have also sought to tie negotiations to a demand Iran cease its support for terror groups and its other destabilizing efforts in the region.
The Obama administration has repeatedly emphasized that it is keeping the negotiations narrowly focused on Iran's nuclear program, warning that bringing other issues into the mix could complicate efforts to reach a deal to curb Iran's nuclear ambitions.
Responding to reports of the charges, White House Press Secretary Josh Earnest said the charges were "absurd, should be immediately dismissed" and said Rezaian "should be freed immediately."
But Earnest also said that the issue would not be looped into nuclear talks because that effort is already "extraordinarily complicated."
"We're trying to focus on these issues one at a time," Earnest said. "One thing that we have done ... in the context of the talks is raised on the sidelines of those conversations -- the sidelines of those talks, our concern about the status of these American citizens. And we are going to continue to press that case as we move forward."
Rubio and Kirk aren't the only ones pressing for diplomatic efforts to also address the situation of imprisoned Americans in Iran.
In a letter to Congressional leaders, Amir Hekmati, a U.S. Marine Corps veteran held in Iran for more than three-and-a-half years, and his family called for the U.S. to apply more pressure on Iran.
Hekmati urged the Congressional leaders in his letter to put in place "serious consequences for this serial hostage-taking and mistreatment of Americans" by Iran.
"Iran should be pressed to prove the sincerity of its professed desire to rejoin the International community by at a bare minimum honoring its existing commitments under international law," Hekmati's sister, Sarah, wrote in a letter Tuesday, pointing to the need for her brother to have access to the International Red Cross and the Swiss Ambassador, who serves as a conduit for U.S. interests in Iran.