LMOP Musical – A Story of FREEDOMS!
Raegan Carey | 4/22/2015, 8:20 p.m. | Updated on 4/22/2015, 8:20 p.m.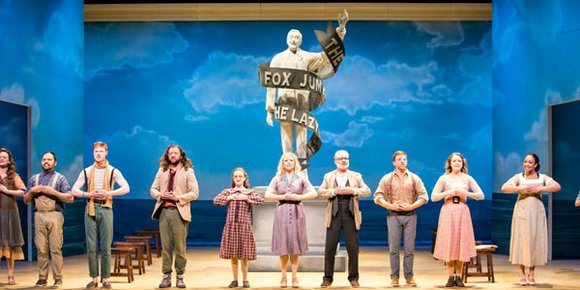 Last weekend TUTS Underground premiered LMNOP, an edgy musical, to Houston audiences last weekend. The musical based on the novel "Ella Minnow Pea" and written by Scott Burkall with music by Paul Loesel, was originally produced by God Speed productions and now it is playing here in Houston for all to see. LMNOP opens with an interesting story line about a small community's fight for their literary rights. You see the town's people fall in love, turn on each other, and come together as they lose the right to use certain letters in the alphabet one by one. It is an exciting musical that includes everything needed to become a smash hit. It is part romance, part literary word game, and part chaotic tale all rolled into one performance.
The TUTS Underground production includes a cast of talented actors and vocalists. Standouts in the performance were the strong vocals of Madeline Tremble – a California native who made her debut with this show, and New Yorker Jared Zirilli (Nate Warren), whose talent and voice on stage was very refreshing to see. Other great performers from the show included Natalie Belcon (Gwenette Minnow) and Brook Wilson (Ruth Greenly), who were previously seen this season in the acclaimed Waiting for Johnny Depp.
LMNOP, the musical not only addresses freedom of speech, but it addresses how our modern world consumes too much modern technology, such as cell phones, TV, and computers. It shows us a small town cut off from modern day distractions, embracing a simpler life and more enriching activities like reading. The musical has a great message and reminds us all how precious our civil liberties are. The musical also shows us how language and communication is fundamental to a healthy society, and it's message illustrates positive community involvement, and encourages all of us to read more. It was a fantastic show and I would definitely recommend it for the entire family.
LMOP plays at the Hobby Center until April 19th and if you missed it this weekend there is still opportunity to catch the last show of TUTS Underground this season. First Date will premier this summer in June and tickets start as low as $25.00. TUTS Underground has produced exciting, affordable productions that make it possible to treat your entire theatre-loving family!
For more information, visit www.tutsunderground.com/LMNOP.