Denise Boutee, Loretta Devine, James Pickens Jr., and Gary Dourdan Headline the TV One Original Movie Premiere of For the Love of Ruth on Saturday, May 9th at 8PM/ET
Film Reunites Stars Loretta Devine and James Pickens Jr. for the First Time on Screen Since Grey's Anatomy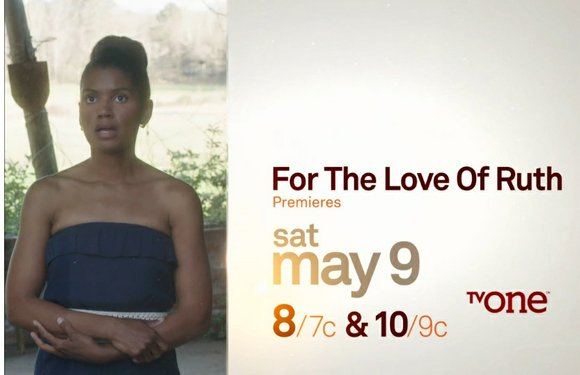 Silver Spring, MD – April 8, 2015 –TV One pays honor to the spirit of Mother's Day with the premiere of the network original film For The Love Of Ruth on Saturday, May 9th at 8PM/ET. The film is inspired by the Biblical story of Ruth that at its core, is a quintessential story of love, commitment and loyalty. Denise Boutee (Meet The Browns)stars as Ruth, an orphan who was in search of her place in a lonely world, until Naomi Marachond – played by Loretta Devine (Grey's Anatomy) – enters her life and provides the guidance and warmth she's been seeking. Rounding out the cast are James Pickens Jr. (Grey's Anatomy) in the role of Stephen Marachond, Naomi's sullen brother-in law and Gary Dourdan (CSI) as Braxton Marachond, damaged isolated cousin Ruth's love interest.

"Mother's Day is an ideal time to share this classic tale of one of the strongest and complex relationships in the world – that between mothers and daughters," said D'Angela Proctor, SVP Original Programming and Production for TV One. "We hope this film also relays an even greater message – that compassion, loyalty and devotion for those in need can profoundly change the course of someone's life."
For The Love of Ruth follows the journey of Ruth Sommerling (Boutee), who, orphaned as a child and currently residing in a women's shelter has lived a life filled with pain and disappointment. In rapid succession, Ruth marries Nicholas Marachond, but a dreadful accident leaves her widowed. Refusing to abandon the new family ties she's formed, Ruth develops a close bond with Naomi Marachond (Devine). As the matriarch of the Marachond family, Naomi introduces Ruth to the fullness that a life filled with faith and loyalty presents. However, Naomi's brother-in-law Stephen (Pickens Jr.) discourages this connection and voices his suspicion of Ruth's intentions. Ultimately, the love she desired all her life is found in Naomi's reclusive cousin, Braxton (Dourdan) who despite objections from others showers Ruth with an outpouring of love and kindness.
For the Love of Ruth is Produced by Eric Tomosunas of Swirl Films. Christine Swanson served as Director for the film. The screenplay was written by Rhonda Baraka. Lamar Chase is Producer for TV One. Executive In Charge of Production and Programming is Tia A. Smith. D'Angela Proctor serves as Executive Producer for the network.
ABOUT SWIRL FILMS:
Swirl Films is America's "number one urban film production company", with over 60 original productions in the past 6 years, focusing on urban content & programming, independent features and multi-camera productions. Swirl Films is a major content provider for TVOne which includes original productions: Born Again Virgin, starring Danielle Nicolet, Gabrielle Dennis and Eva Marcille; Fear Files (Lynn Whitfield, Robin Givens, Columbus Short), Comeback Dad (Charles S. Dutton, Loretta Devine), Russ Parr's award-winning The Undershepherd, Hear No Evil, and 35 & Ticking (Kevin Hart).
ABOUT TV ONE:
Launched in January 2004, TV One (www.tvone.tv) serves 57 million households, offering a broad range of real-life and entertainment-focused original programming, classic series, movies and music designed to entertain and inform a diverse audience of adult Black viewers. The network is the exclusive home of News One Now, the only live daily news program targeting Black viewers. In December 2008, the company launched TV One High Def, which now serves 14 million households. TV One is owned by Radio One [NASDAQ: ROIA and ROIAK, www.radio-one.com], the largest radio company that primarily targets Black and urban listeners, and Comcast Corporation [NASDAQ: CMCSA, CMCSK), www.comcast.com], one of the nation's leading providers of entertainment, information and communications products and services.
For more information, visit tvone.tv