Houston Students Leave An Artistic Legacy in France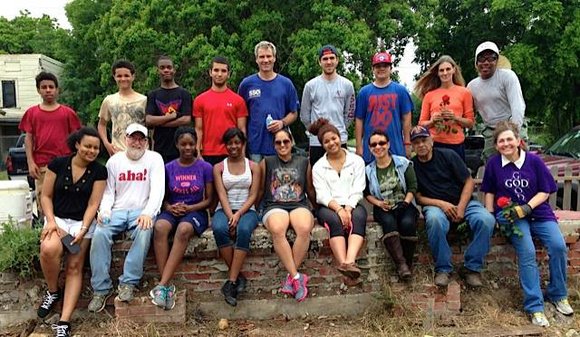 Houston TX – April 14, 2015. The SSQ: International Exchange is a youth-based cultural exchange project that is taking 20 students from the inner-city of Houston, Texas to France to create a public art project during the summer of 2015.
From June 7 through June 17, 2015 twenty high school aged students from across Houston will be accompanied by public artist and community developer, Reginald C. Adams and a team of project leaders, in an extraordinary community-based public art project in France.
The students are currently raising funds through GofundMe to help cover their expenses for the trip.
Sponsored in part by the Texan French Alliance for the Arts and Schlumberger, these students will participate in a Science, Technology, Engineering, Art and Math (STEAM) training that will prepare the students for their international community service project.
The students will design and build their project in a virtual world using AutoCad and 3-D printers from Schlumberger's SEED program training facilities in Sugarland, Texas. Their design will then be constructed in France in partnership with a local high school and university in Lyon, France.
"This is will be the first time most of these students have ever left the State of Texas not alone travel to a foreign country and to be able to leave a legacy of public art for future generations, that's something these kids will never forget" says, Reginald C. Adams.
The Texan French Alliance for the Arts will serve to promote and facilitate artistic and cultural exchanges and educational programs between Texas and France. Through its support, artistic and cultural institutions will form partnerships to advance Texan art and culture in France and French art and culture in Texas. Under the aegis of the TFAA, these varied artistic partnerships will serve to promote new artists and expose audiences of today and tomorrow, to appreciation of different art forms, thus strengthening cultural awareness between Texas and France.
SEED, also known as Schlumberger Excellence in Educational Development, is a global non-profit educational outreach organization within Schlumberger Limited, the global oilfield services company. The mission of SEED is to inspire, influence and enable educators in underserved communities where Schlumberger people live and work to engage youth in science and technology. SEED aims to build learning communities and knowledge-sharing environments in which students, educators and volunteers collaborate on projects in their local languages
Reginald C. Adams is a Public Artist and Community Developer, based in Houston Texas. His studio is world renown for award winning public art projects, which are strategically located in historic and underserved communities across the U.S. What makes his work most unique is the process of engaging the public in the design, creation and celebration of the artwork.
For more information about SSQ: International Exchange visit us online at www.reginaldadams.com or call Reginald C. Adams at 832.208.1549. Contribute to their campaign by visiting http://www.gofundme.com/ssq-ie