Robert Spano Brilliantly Conducts the Houston Symphony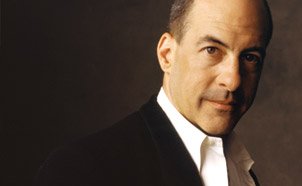 The Performance which was comprised of three acts, first act was Jennifer Higdon's piece "Blue Cathedral" –a contemporary piece, the second act showcased music from Chopin with Conductor Robert Spano- former music director of the Atlanta Symphony and established pianist Garrick Ohlsson. The third act again featured original, music composed by award winning female composer Jennifer Higdon.
The Houston Symphony performance opened with Act one: "Blue Cathedral", a contemporary piece composed by Jennifer Higdon. The piece itself, which highlighted mostly flutes, was inspired by the death of her brother and is a beautifully written piece about peaceful journey and new beginnings. The composer imagined images of clouds and a sanctuary of a church cathedral and it's heavenly music when writing this piece. It was a great piece to start the night with and Jennifer Higdon's talent and genius ability to express emotion throughout her music is profound. Her pieces were my favorites throughout the night.
Act two: featured award winning conductor Robert Span –who has won seven Grammy awards and pianist Garrick Ohlsson known mainly for his masterly performances of Beethoven and Mozart. Many classical concerto fans were there this night to watch this critically acclaimed duo take the stage. Act two: was delightful and opened with Chopin's Piano Concerto 1 in E minor, Opus 11, Allegro maestros, Romance: Larghetto, and Rondo: Vivace. In this act, if you are a fan of Chopin and classical works then you would have been highly entertained. Chopin's E minor piano concerto features a more romantic and calm sound, and it was never meant to be a fully commanding, powerful piece. Other instruments featured in this piece were violins, trumpets and strings.

Act three –the last act of the night and by far my favorite, featured composer Jenny Higdon's who Concerto for Orchestra was both brilliant and imaginative. One thing I would love to note about Jenny Higdon is that her pieces were powerful and stood out because she included the entire orchestra. Higdon also managed to utilize instruments in such a creative way, producing five pieces with unique sounds that utterly, blew the audience away. What I enjoyed the most in this act was her third piece, which allowed each principle player a solo. Each solo also had it's own unique material. Another standout piece of her concerto was the fourth piece, which was written as a tribute to rhythm and percussion. Instruments that stood out in this piece were the bowed vitaphone, chimes, timpani, and percussion.
Jennifer Higdon's who is this country's most performed living female composer right now is a true genius, she deservingly so has won a Pulitzer prize for her work, and most recently for her Percussion Concerto won the 2010 GRAMMY for Best Contemporary Classical Composition. Her contemporary pieces to me were the star of the night, and it was an honor to attend and listen to the Houston Symphony perform her award winning concerto last weekend. Not everyone is a fan of classics concertos of Mozart, Beethoven and Chopin, but that is why I enjoyed the night's performance because it brilliantly featured both.
For more information, visit http://www.robertspanomusic.com/