Tilman Fertitta Announces Houston's First Luxury Hotel and Mixed-Use Development
Stylish 10-Acre Development Features 35-Story Tower and Largest Ballroom in the Galleria/Uptown Area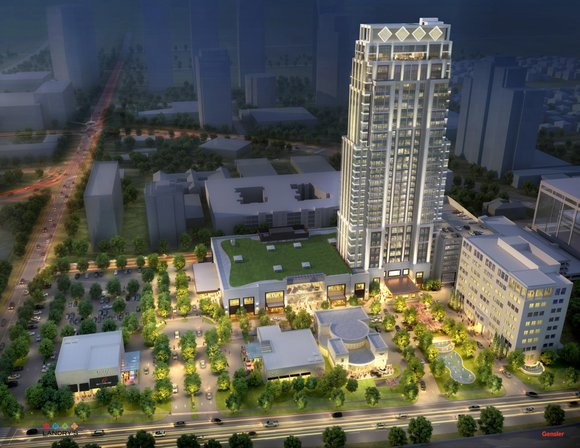 HOUSTON, TX (April 23, 2015) – Tilman J. Fertitta has broken ground on The Post Oak, the first vertical mixed-use, master-planned project in Houston that combines hotel, office, residential, retail and restaurant offerings all in one tower. The luxurious new development will be prominently located in the Galleria and Uptown area along West Loop South, with convenient access from Loop 610, Holly Hurst Street, and Hallmark Drive. Rising above this 10-acre prestigious mixed-use development will be a sophisticated 35-story tower with an adjacent elegant and expansive ballroom, the largest in the Galleria and Uptown area. In addition to the already existing magnificent oak trees on the property, Fertitta will spend over $1 million to transplant and install large specimen oak trees to further complement the development.
"The Post Oak will serve as a luxury destination for guests, businesses, and residents," stated Tilman J. Fertitta, developer of The Post Oak. "I am excited about creating Houston's finest hotel, most unique service-oriented office space, exclusive luxury residential apartments, and once again, some of Houston's best restaurants. The Post Oak's proximity to our corporate office allows me and my executive team to be intimately involved in the planning and development of this 10-acre urban experience."
"We welcome this addition to the Galleria and Uptown area, Houston's premier destination for fashion, fine dining, luxury hotels, prominent office addresses and elegant high-rise living," said John Breeding, president of Uptown Houston District. "Tilman Fertitta is setting the standard for luxury development. We are so pleased he has chosen the Uptown district as the area to build this incredible project."
A Tower Designed to Set New Standards
The 650,000-square-foot tower will accommodate 240-luxury hotel rooms, more than 120,000 square feet of boutique office space, and 22-residential apartment units, all with dramatic interior finishes and unobstructed views of the surrounding neighborhoods and Downtown. Upon entering The Post Oak, all will be captivated by an impressive open plaza, with outdoor dining patios, and lushly landscaped pedestrian areas. The tower's lobby will be designed with exquisite finishes and furnishings, custom lighting, and views overlooking a stunning pool. Unique amenities will include a two-story spa and salon, signature restaurants and retail, over 1,000 parking spaces, and more.
Luxury Hotel
The tower's luxury hotel will feature a combination of 240-well-appointed rooms and suites generously ranging from 500 to 2,000 square feet. All rooms and suites feature five-fixture deluxe bathrooms, state-of-the-art audio visual technology, three televisions and separate sitting areas. Additionally, the hotel will offer a Presidential Suite and an impressive 4,000-square-foot, two-bedroom Chairman Suite with its own private elevator access, media room, exercise room, and private terrace. The Chairman Suite will serve as Houston's finest luxury suite for visiting dignitaries, celebrities, and other VIPs.
High-End Commercial Office Space
Eleven stories in The Post Oak tower are designated for low density, Class A, commercial office space with high ceilings, offering boutique professional firms and businesses the ultimate office space in a prime, central location. All office tenants will enjoy exclusive 24-hour services including catering and room service, corporate concierge, and transportation needs. A separate secure entrance from the parking garage will provide direct access to the offices.