Grammy Award-Winning Violinist James Ehnes Returns to Houston for Beethoven's Violin Concerto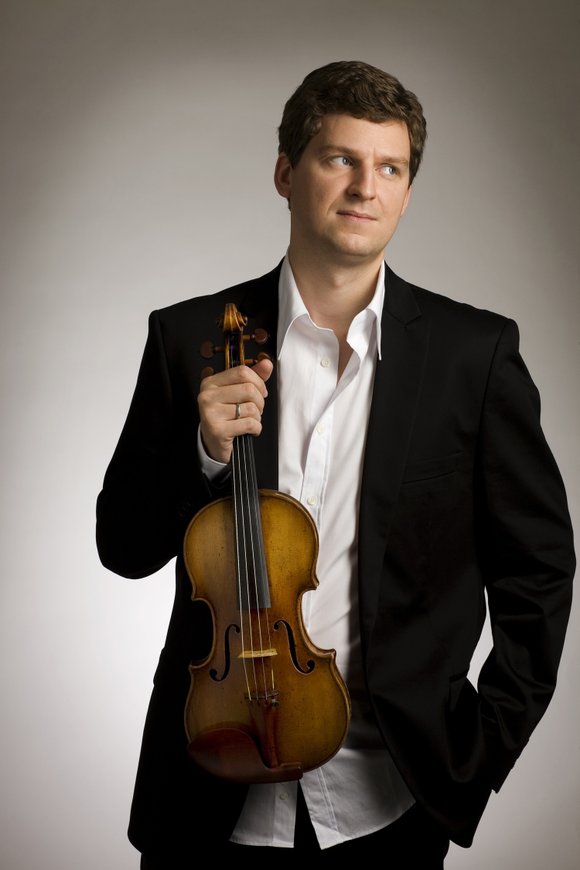 "Musically Speaking with Andrés" returns to Stude Concert Hall featuring commentary and musical examples
HOUSTON (April 22, 2015) – Canadian violinist James Ehnes returns to Jones Hall on May 8-10 to perform Beethoven's Violin Concerto, one of the most indelible and profound masterpieces of the violin repertoire.
Houston audiences may remember Ehnes from his 2011 performance of Johannes Brahms' Violin Concerto at Jones Hall. This will be his seventh appearance with the orchestra and his first under the direction of Music Director Andrés Orozco-Estrada. The award-winning violin virtuoso has performed in over 30 countries on five continents, appearing regularly alongside the world's most celebrated orchestras and conductors.
The Beethoven and Bartók program will also feature Bartók's Concerto for Orchestra, a piece originally commissioned by then Boston Symphony Music Director, Serge Koussevitzky, shortly after the staunchly anti-fascist composer fled his war-threatened Hungary. It has been speculated that Bartók's previous work, the String Quartet No. 6, could have very well been his last had it not been for this commission, which was followed by his Piano Concerto No. 3 and Viola Concerto, his final major works.
Bartók's Concerto for Orchestra, which as the title suggests treats single orchestral instruments in a soloistic and virtuosic manner, is full of life despite the tumultuous moments the composer was experiencing at the time, including a terminal illness diagnosis and the culture shock that ensued shortly after fleeing Hungary and moving to New York. A true pioneer of ethnomusicology, Bartók had a natural ability to integrate elements of folk music styles from Eastern Europe, the Near East and North Africa in his Concerto for Orchestra.
A free Prelude pre-concert discussion led by Principal Tuba David Kirk will be held 45-minutes prior to the start of the concerts at Jones Hall on Saturday evening and Sunday afternoon. Unless otherwise noted, all concerts take place at Jones Hall for the Performing Arts, 615 Louisiana Street, in Houston's Theater District. For tickets and information, please call (713) 224-7575 or visit www.houstonsymphony.org. Tickets may also be purchased at the Houston Symphony Patron Services Center in Jones Hall (Monday – Saturday from 10 a.m. to 6 p.m.). All programs and artists are subject to change.
"Musically Speaking with Andrés" Series at Rice University's Stude Concert Hall
Prior to the weekend performances featuring Ehnes, Andrés and the Houston Symphony take the stage at Rice University's Stude Concert Hall at the Shepherd School of Music on Thursday, May 7, for "Musically Speaking with Andrés."
Andrés will be joined by friend and fellow conductor Carlos Andrés Botero in this program that integrates musical commentary, examples and a post-concert Q&A session with a performance of Bartók's Concerto for Orchestra. Andrés' goal with this series is to deepen connections between the audience, the music and the makers of music, providing insightful context that adds to the richness of the listening experience.
With this new concert format, Andrés hopes to further open the eyes and ears of new and veteran Symphony goers in order to connect more of Houston's diverse population to the power of live symphonic music.