Independence Day 2 Adds It Follows Star As The Female Lead, Get The Details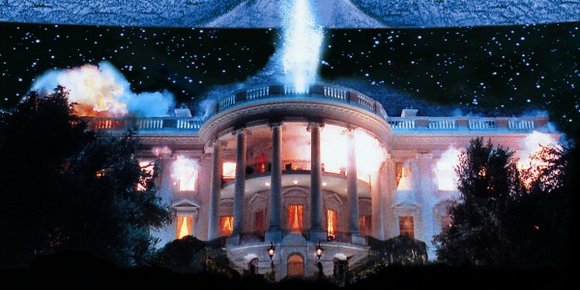 Thanks to her performances in the acclaimed horror films The Guest and It Follows, Maika Monroe has found herself on Hollywood's radar in a big way... so it was only a matter of time before a big upcoming blockbuster recruited her. Lo and behold, we now have the official news that the up-and-coming actress has landed the lead female role in Roland Emmerich's upcoming Independence Day 2.
The official announcement was actually made by Emmerich himself, who is currently in pre-production on the movie and Tweeted out this special message this afternoon:
I have another addition to announce. The beautiful & talented Maika Monroe is officially signed on 2 the Independence Day Sequel!
Obviously that post isn't exactly filled with details, but The Hollywood Reporter has done some digging and pulled out some info about the role that Maika Monroe will be playing in Independence Day 2. According to the trade's sources, the actress will actually be playing the daughter of Bill Pullman - who you may remember as President Thomas J. Whitmore from the original movie. It's also mentioned that she may be a love interest for the character being played by Liam Hemsworth. Monroe is joining a cast that also includes Charlotte Gainsbourg, Jessie Usher, Jeff Goldblum, and Judd Hirsch.
Monroe has definitely impressed in recent performances, but she did evidently have to really work for this part in Independence Day 2. In going out for the part, she saw competition in other talented up-and-comers including Lucy Boynton (Miss Potter), Merritt Patterson (The Royals), Gabriella Wilde (Endless Love) and Britt Robertson (Tomorrowland).
Fittingly, Maika Monroe just recently finished production on the alien invasion film The 5th Wave, starring Chloe Moretz, but she also has a sci-fi drama called Bokeh in post-production. In addition to Independence Day 2, she is also attached to star in the surfing drama The Tribes of Palos Verdes,which will co-star Jennifer Garner and X-Men: Apocalypse star Tye Sheridan.
Set 20 years after the original, Independence Day 2 will begin in a world that has moved on from the alien invasion that occurred two decades ago, and has used the alien technology to improve human society. What the people of Earth don't know, however, is that the original alien invaders sent out a distress call before they were destroyed, and that backup has finally arrived. James A. Woods and Nicolas Wright penned the most recent draft of the screenplay, and the plan is to have the movie in production this summer. 20th Century Fox has plans to release the film on June 24, 2016 - which is weirdly the weekend before the Independence Day holiday.
For more information go to http://www.cinemablend.com