Jeb Bush courts Hispanic evangelicals in Texas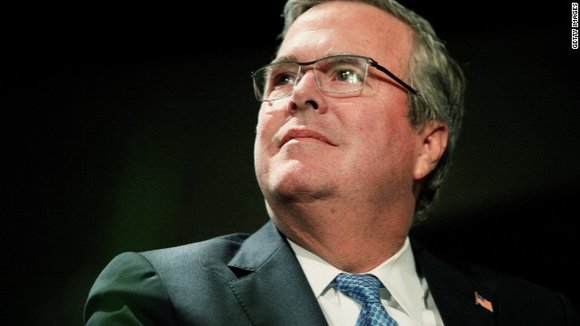 HOUSTON (CNN) -- With his parents sitting in the front row, Jeb Bush addressed an audience of Hispanic evangelicals on Wednesday, calling for policies that would let undocumented immigrants "come out from the shadows."
The values-heavy address at the National Hispanic Christian Leadership Conference in Houston focused on the importance of the family unit and pushed for an America that's more engaged in the world. The former Florida governor also used his speech to criticize President Barack Obama for not fighting hard enough to protect Christians who are facing attacks overseas.
In his likely presidential campaign, Bush is poised to compete heavily for Hispanic voters, thanks in part to his fluency in Spanish and his assimilation into the Hispanic community. His wife is from Mexico and he frequently talks about his bicultural family.
On Wednesday, he gave the names of his four grandchildren, including their grandson named after Bush's grandfather, Prescott Bush, or as they call him, "Little P."
"We also call him Chicharito," he said, which translates into English as "little pea." The audience roared in laughter. Chicharito is the nickname for Javier Hernandez, a famous soccer player from Mexico.
He also praised the United States for being a "nation of immigrants," saying, "this is not the time to abandon something that makes us special and unique."
An advocate for legal status for undocumented immigrants, Bush has come under fire from conservatives for appearing too lenient on the issue. The former governor has also been an advocate for more legal immigration, while his closest rival in the race, Wisconsin Gov. Scott Walker, has started calling for tighter restrictions on legal immigration.
Bush said the immigration system needs to be fixed by controlling the borders, but he also called for dealing with the estimated 11 million undocumented workers already in the country.
"Eleven million people that should come out from the shadows and receive earned legal status -- where they pay a fine, where they work, where they do what they want to do, which is come out from the shadows, work, provide for their families, not receive government assistance, and over a period of time be able to receive earned legal status," he said.
Bush also argued that a stronger America would require better engagement in the world, especially when it comes to the persecution of Christians by ISIS and other terror groups. A major topic of concern for evangelicals, the increased attacks overseas have fueled greater interest in foreign policy among Republican primary voters.
"Whether they're gathered in a chapel or in a college dormitory in Kenya, or the beaches of Libya, or in Northern Nigeria, or in Iraq or wherever there is persecution of Christians or Jews or of any group of people, the United States needs to be on the side of people that are being endangered each and every day," he said to applause.
"And I believe this president has let us down in this regard," he said. "That's the only political thing I'm going to say today."