School Resource Officer Sued for Allegedly Handcuffing Children with ADHD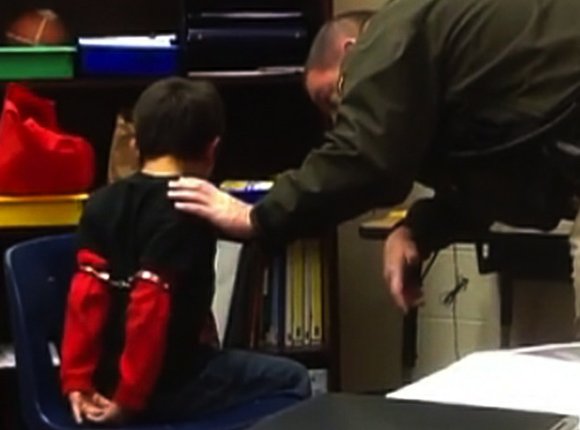 By Holly Yan
CNN
(CNN) -- A Kentucky sheriff's deputy now faces a federal lawsuit for handcuffing elementary school children who were acting out as a result of their hyperactivity disorder and other disabilities, the American Civil Liberties Union said.
The ACLU is suing Kenton County sheriff's Deputy Kevin Sumner, who works as a school resource officer at Latonia Elementary School in Covington. Sumner is accused of handcuffing an 8-year-old boy and a 9-year-old girl, who both have attention deficit hyperactivity disorder.
Cell phone video obtained by the ACLU captured one incident in which Sumner talks to a boy handcuffed in a chair. The boy is so small that he's handcuffed not around the wrists, but around his biceps.
"You don't get to swing at me like that," the deputy says as the boy cries. "You can do what we've asked you to, or you can suffer the consequences."
"Ow, that hurts!" the boy cries.
The deputy tells the boy what he'll need to do to get unshackled.
"If you want the handcuffs off, you're going to have to behave and ask me nicely," he said. "And if you're behaving, I'll take them off, but as long as you're acting up, you're not going to get them off."
The handcuffs were removed after about 15 minutes, the ACLU said, citing school records.
The ACLU said the girl was twice handcuffed behind her back by her biceps and was also in pain.
"Both children were being punished for behavior related to their disabilities," the ACLU said in a statement.
All three incidents happened last fall.
Lawsuit calls for training, seeks damages
The group is suing on behalf of the two children, claiming Sumner violated the Americans with Disabilities Act.
The suit seeks a change in policies by the Kenton County Sheriff's Office and additional training for school resource officers in dealing with young children and children with special needs. It also seeks an unspecified amount of monetary damages against Sumner.
"Shackling children is not OK. It is traumatizing, and in this case it is also illegal," said Susan Mizner, disability counsel for the ACLU. "Using law enforcement to discipline students with disabilities only serves to traumatize children. It makes behavioral issues worse and interferes with the school's role in developing appropriate educational and behavioral plans for them."
CNN has not reached Sumner or anyone representing him for comment.
Sumner's attorney, Robert Sanders, told the Lexington Herald-Leader that Sumner put the children in handcuffs because "they were placing themselves and other people in danger of harm and that's what the book says to do."
"Kevin Sumner is one of the best and most highly trained school resource officers in Kentucky," Sanders told the newspaper. "He's a teacher who left that profession to become a police officer. He's totally devoted to kids and schools and education."
According to an investigative report cited in the lawsuit, Sumner said the boy "swung his arm and attempted to strike him with his elbow," but the deputy blocked the boy's elbow with his hand.