The First Ever Houston Hip-Hop Culture Festival
MCs, Turntables, B-Boys, & Graffiti Artists Unite for All-Inclusive Hip-Hop Fest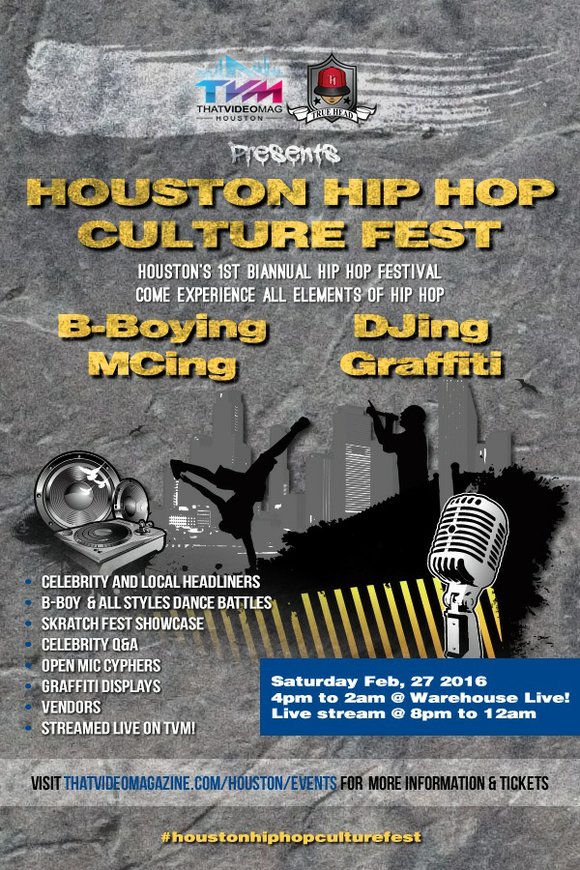 HOUSTON, Aug. 4, 2015 /PRNewswire/ -- ThatVideoMag (TVM) & True Head present the first ever biannual Houston Hip-Hop Culture Fest (HHCF) on Saturday, February 27th, 2016 at Warehouse Live.
"Most hip hop events are focused on music, particularly rap with a DJ relegated to the background of the emcee's performance," said TVM Founder Dexter Bayack. "HHCF will combine all of the original elements of hip hop in one Houston event to celebrate our culture and our city."
HHCF will showcase the four distinct elements of Hip-Hop culture: MCing, Turntablism, Breakdancing, and Graffiti Art. The festival will include dance competitions with prizes up to $5,000, graff displays, vendors of all kinds, open mic cyphers, and live performances by national and local headliners.
In arranging the festival, TVM and True Head have sought and established news ways to fulfill their four-fold mission of creating opportunities for local artists to expand and work with celebrity acts; rebalancing revenue sharing to better benefit and support artists; cultivating a cohesive Hip-Hop community by driving awareness of local acts; and expanding the impact of sponsors and the movement, including continual state-of-the-art live stream revenue opportunities for clients and partners. The entire event will be live streamed online by TVM, offering all participating artists the opportunity to increase revenue via remote viewers.
"Our goal is to place power back in the hands of the people: artists, fans, and promoters," said TVM Founder and Executive Producer Dexter Bayack. "This way anyone can attend the festival digitally or in person. The fans can get in on the action from anywhere in the world and the artists secure a new way to support themselves in an industry that's getting tougher to work in. Fans win. Artists win. Hip-Hop prevails!"
About ThatVideoMag
ThatVideoMag (TVM) is a cutting edge video entertainment magazine and social network featuring exclusive, original content with a local focus. TVM was originally formed as an all-inclusive resource for those seeking an alternative to mainstream media. Today, the company sponsors events, streams performances, and produces high quality content tailor-made for modern art and business culture. TVM's mission is to consistently innovate to improve the media industry for artists, enthusiasts, and producers of all genres and industries.
For more information, visit the Houston Hip Hop Culture Fest.