September is Hunger Action Month! Houston Food Bank Activities Planned
Month of special events and promotions – including lighting Houston City Hall orange – encourages Houstonians to fight hunger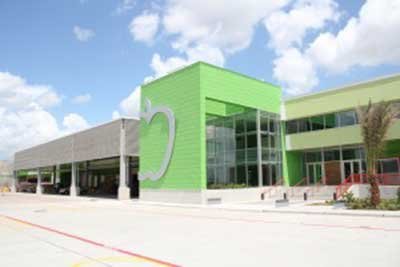 HOUSTON…Each year, Houston Food Bank provides more than 67 million nutritious meals to food pantries, soup kitchens, senior centers and other agencies, feeding 800,000 people each year. Sadly, nearly half the people served annually are children under the age of 18. Individuals and families who have never before needed help have become 'the new poor' and turning to food pantries and other sources for sustenance.
To bring awareness to the important issue of hunger, the Houston Food Bank and hunger relief agencies across the country have designated September as Hunger Action Month.
Here in Houston, the theme for the month is HUNGER BITES, BITE BACK, which has a double meaning plus a call to action: one, hunger is a bad thing; two, that it has a painful, biting effect on those who suffer from it; and we can all "bite back" by taking action to help our neighbors in need. Hashtag for the month is #hungerbites
"The word 'action' drives home an important message: we must do something, not only as a community but as individuals, to eliminate hunger in our communities," says Brian Greene, president and CEO of Houston Food Bank. "People can make a difference by advocating or giving time and energy, sharing information on social media or donating food and funds to help neighbors in need."
Special activities and events the Houston Food Bank has planned for Hunger Action Month are:
· Houston City Hall will be colored orange – September 7-10
The official color of hunger relief is orange, and in support of Hunger Action Month and Houston Food Bank's efforts, City of Houston will illuminate our City Hall building in orange September 7-10. Stop by and take a "selfie" to post to social media!
· #Helpie Social Media Campaign
Speaking of selfies and social media, don't forget to snap and post your #helpie during Hunger Action Month! What's a #helpie? It is a selfie snapped while volunteering and helping others and posted on social media outlets such as Facebook, Twitter, Pinterest and Instagram. Posting a #Helpie will help shine a light – even if for a moment – on everyday people who make a huge difference in our organization and our community. HFB cannot express how important volunteers are to the organization being able to complete its mission to feed the hungry – they provide approximately 6,500 hours of service to our organization each week!
· SNAP Challenge – can you live on just $4 per day for food?
What if you could not afford to buy food? More than one million food insecure children, adults and seniors face that risk every day in the 18 southeast Texas counties served by the Houston Food Bank. SNAP is the federal program commonly referred to as "food stamps" that helps individuals and families purchase nutritious food from local grocery stores. The program is one of the best long-term strategies for addressing food insecurity, defined as inconsistent access to sufficient nutritious food, but sadly, Texas has one of the lowest participation rates in the country. The current average SNAP budget is just under $4 a day for an individual, or nearly $28 a week. Could you live on this amount of money to spend on food? Take the Food Stamp Challenge during Hunger Action Month and find out! Guidelines for the Food Stamp Challenge can be found at houstonfoodbank.org/snapchallenge.aspx. Facebook and Tweet about it, and use the hashtag #SNAPChallenge.