NWTF Signs Cooperative Agreement to Improve Habitat on National Grasslands in Texas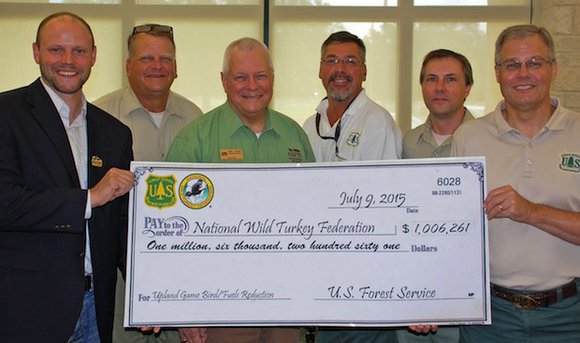 EDGEFIELD, S.C. — Representatives from the National Wild Turkey Federation (NWTF) and the National Forests and Grasslands in Texas (NFGT) met on July 9 in Lufkin, Texas, to announce a partnership that will bring more than $1 million worth of habitat work to the state over the next five years.
The agreement focuses on restoration and creation of early successional wildlife habitat, commonly referred to as young forests and grasslands, on the Caddo and Lyndon B. Johnson (LBJ) National Grasslands. A variety of wildlife including northern bobwhite quail, white-tailed deer, and Rio Grande and Eastern wild turkeys will benefit from the conservation work.
"Early successional habitat is critical for the conservation and management of wildlife species," said NWTF Western Director of Conservation Operations Kurt Dyroff. "We are excited to partner with the U.S. Forest Service to improve habitat, wildlife viewing and hunting opportunities in Texas"
Over the next five years, the NWTF plans to remove 2,700 acres of invasive red cedar, restoring prairies to their native ecosystems. Work also includes 840 acres of fuel breaks that will reduce the impact of wildfires, as well as improvement and restoration efforts on 180 acres of watershed on the grasslands.
"This project reduces the buildup of hazardous fuels in the Dallas-Fort Worth wildland urban interface, and it will enhance and contribute to the tall grass tall timber prairie ecosystems, including early successional wildlife habitat," said Jim Crooks, National Forests and Grasslands in Texas Fire and Timber Team Leader.
The conservation efforts across the Caddo and LBJ National Grasslands mean increased opportunities for public hunting, bird and wildlife watching, and much more.
"We are extremely happy to partner with the National Wild Turkey Federation on this project," said Forest Supervisor Mark Van Every of the National Forests and Grasslands in Texas. "Not only will this restore native prairie ecosystems, it will enhance native bird habitat, including that of the wild turkey."
The five-year agreement is an extension of NWTF and Texas Parks and Wildlife Department (TPWD) conservation efforts that began in 2014. The NWTF was granted Upland Game Bird Stamp Funds by TPWD that were used to restore early successional habitat on nearly 1,300 acres of the LBJ National Grassland at a cost of nearly $500,000.
About Save the Habitat. Save the Hunt.
The NWTF Save the Habitat. Save the Hunt. initiative is a charge that mobilizes science, fundraising and devoted volunteers to give the NWTF more energy and purpose than ever. Through this national initiative, NWTF has committed to raising $1.2 billion to conserve or enhance more than 4 million acres of essential upland wildlife habitat, create at least 1.5 million hunters and open access to 500,000 acres for hunting, shooting and outdoor enjoyment. Without hunters, there will be no wildlife or habitat. The NWTF is determined to Save the Habitat. Save the Hunt.
About NFGT
The National Forests and Grasslands in Texas manages approximately 675,000 acres of public land in Texas. This land is divided into four National Forests in East Texas and the Caddo-Lyndon B. Johnson National Grasslands in northeast Texas. These public lands are administered under multiple-use management to protect and obtain the greatest benefit from all forest resources: recreation, timber, range, fish and wildlife, soil and water and minerals.
For more information, visit nwtf.org