Two Dads Tackle Their Own Kids' Diabetes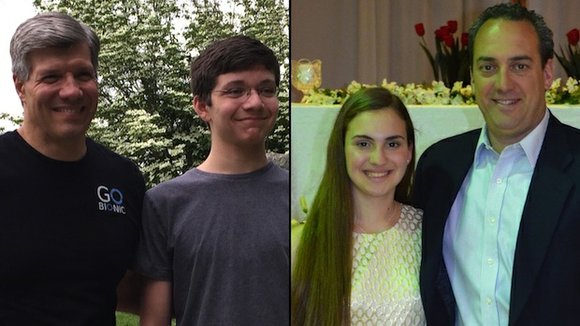 By Liza Lucas
Special to CNN
(CNN) -- When David Panzirer became a trustee and program officer for the Helmsley Charitable Trust after the death of his grandmother and hotelier Leona Helmsley in 2007, it seemed like fate.
"It wasn't such a subtle message of what I should do with my life," said Panzirer. Only five months earlier, his 6-year-old daughter had been diagnosed with Type 1 diabetes.
"It took us a few weeks to get our legs back under us" after his wife, a registered dietitian, and Panzirer heard the news. The ensuing nights were filled with screaming and crying ordeals over insulin shots, he said.
"It's devastating news, and it breaks my heart every time I walk into the room and deliver this message," said Dr. Preneet C. Brar, a pediatric endocrinologist in the Department of Pediatrics at NYU Langone Medical Center.
Diabetes is characterized by high levels of blood glucose that results from defects in insulin production, insulation action or both. But only 5% to 10% of people with diabetes have Type 1, which develops when the body's immune system destroys pancreatic beta cells, the only cells that produce insulin.
Previously known as juvenile diabetes, Type 1 diabetes (also called T1D) is usually diagnosed in children and young adults.
"It changes their life forever in a certain way," said Brar. "It is a difficult disease to take care of. Being a parent myself and knowing the nuances of the disease, I can't even fathom how I would react to it."
Ultimately, Panzirer's daughter became extremely involved in her own care, including giving herself 85% of the shots with supervision, according to Panzirer. But with his new role as a trustee and parent of a child with T1D, he had a unique opportunity.
"I kind of fell into the best job in the world," said Panzirer. "I get the opportunity to impact my child's disease ... with the understanding I have a much bigger responsibility."
The Helmsley Type 1 Diabetes Program was launched in 2008 and has since made more than 350 grants totaling nearly $300 million to advance research and treatment of the disease. In April, the Helmsley Charitable Trust also announced a global T1D prevention initiative, convening researchers from around the world.
"It makes me tremendously proud to know that our T1D program exists for just one reason: To have a positive impact on those living with T1D," said Panzirer. "Working with industry, researchers, physicians, regulators and other funders, we aim to leverage the best minds and efforts across all disciplines, and we don't care who has the answer," he added.
One of those researchers is Ed Damiano. Like Panzirer, his life's work in T1D research at Boston University was inspired by his family being transformed by the disease after his son's diagnosis.
When Damiano's son David was 11 months old, he started "backpedaling" in development, said his father, and suddenly started heavy diapers and was showing erratic behavior. Within hours of taking him to the hospital one night, the infant had a blood sugar level of 800, said Damiano, which is eight times the normal.