Texas Clay: 19th-Century Stoneware Pottery from the Bayou Bend Collection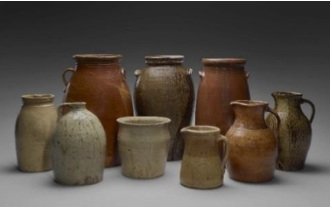 What: Texas Clay: 19th-Century Stoneware Pottery from the Bayou Bend Collection
September 5–November 1, 2015
Overview: Texas Clay: 19th-Century Stoneware Pottery from the Bayou Bend Collection focuses on early examples of Texas pottery from the collection of the Museum of Fine Arts, Houston, house museum for early American decorative arts and paintings. The exhibition, on view from September 5 to November 1, 2015, introduces visitors to the vibrant tradition of handmade, utilitarian pottery that flourished in mid- to late-19th century Texas.
The stoneware jugs, jars, butter churns, and pitchers on display were turned on a potter's wheel by professional potters, their family members, and African American slaves trained in the craft, some of whom went on to open their own operations after emancipation. Bayou Bend's unparalleled Texas collection, the largest of its kind, includes outstanding examples of vessels by master potters from the principal stoneware manufacturing regions of Texas. Highlights of the exhibition include distinctively shaped and glazed vessels by master potter John Leopard, jugs and jars from the Guadalupe Pottery of Guadalupe County owned by the Reverend John M. Wilson, and works by celebrated potter Hiram Wilson, who established one of the first African American owned and operated enterprises in Texas.
The exhibition and accompanying catalogue reflect Bayou Bend's increasing interest in 19th-century Texas material culture. The resulting research has added significant information to the William J. Hill Texas Artisans and Artists Archive, Bayou Bend's free online archive that documents the lives, works, and products of artisans and artists working in Texas prior to 1900.
Location: The Caroline Wiess Law Building / 1001 Bissonnet Street
Funding: This exhibition is organized by the Museum of Fine Arts, Houston.
Generous funding for the exhibition and publication is provided by: Leslie and Brad Bucher
in memory of Michael K. Brown
For more information, visit mfah.org