Legends Weekend and Craig Biggio Hall of Fame Celebration Highlight Upcoming Homestand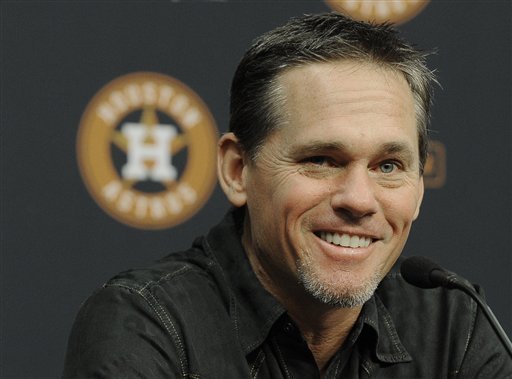 HOUSTON, TX - This upcoming homestand will feature two very special events for Houston fans, as the Astros commemorate the 2005 National League Championship team with Legends Weekend presented by Houston Methodist, August 14-15, and Craig Biggio's Hall of Fame induction celebration on August 22.
As the first-place Astros host the Detroit Tigers for a three-game set, Aug. 14-16, several events celebrating the 10th anniversary of the Astros 2005 NLCS victory will take place throughout the ballpark. Following that series, Houston will take on the Tampa Bay Rays for four games, starting Aug. 17 through Aug. 20. During the series, Astros fans can receive up to two complimentary children's tickets (ages 14 and under) with the purchase of an adult View Deck ticket as part of the Kids FREE Back to School ticket special. The Astros will finish out the homestand with three games of Interleague play against the NL West-leading LA Dodgers from Aug. 21 through Aug. 23. Prior to the Saturday game of that series, Astros Hall of Famer Craig Biggio will address the Houston crowd in a special on-field pregame ceremony celebrating his Hall of Fame induction and historic career with the Houston Astros. The Astros have been nearly unbeatable at Minute Maid Park, going 38-18 at home this season, which ranks second in the AL.
The "Season of the #Whiff" campaign, in partnership with the Astros, MLB and Head & Shoulders, continues to raise money for local RBI programs through Twitter. The team with the most #Whiff tweets, including retweets, will earn a donation for their location RBI league, and the top monthly winner will earn a $10,000 donation. Fans can participate and help raise money for the Astros RBI program by including #Whiff and @Astros in their tweets or retweets, with a 27 tweet limit per day per Twitter handle. The Astros placed third in July and have raised $22,000 for Astros RBI to date.
Friday, August 14 - 7:10 p.m. vs. Detroit
On Friday, August 14, 10,000 fans will receive a 2005 NLCS T-shirt giveaway, presented by Houston Methodist, to kick off Astros Legends Weekend.
Friday is also the next opportunity for Astros fans to see All-Star pitcher Dallas Keuchel start and experience Keuchel's Korner. The dedicated fan section will be located in sections 107, 108 and 109 for Friday's game and includes a signature Keuchel beard giveaway and an exclusive Keuchel's Korner #GoBeardOrGoHome T-shirt. For tickets and more information, please visit www.astros.com/keuchelskorner.
Big and Bright Friday Night returns with a postgame fireworks display, presented by Marathon Oil Corporation. This week's fireworks show will be a dedicated tribute to Queen.
Friday night is also Happy Hour at Minute Maid Park, featuring $5.25 specials at the Saint Arnold Bar in left field and Day Fresh Budweiser at the Budweiser Patio from 5:00 p.m. - 6:30 p.m.
Saturday, August 15 - 6:10 p.m. vs. Detroit
Prior to Saturday's 6:10 p.m. contest vs. the Tigers, the Astros will be hosting several special Legends Weekend events.
Astros alumni and staff scheduled to appear throughout the weekend include Brandon Backe, Mark Bailey, Lance Berkman, Craig Biggio, Ryan Bowen, Rank Charles, Rocky Childress, Ron Cook, Jose Cruz, Glenn Davis, Larry Dierker, Travis Driskill, Morgan Ensberg, Adam Everett, Mike Gallo, Phil Garner, Charles Gipson, Jeff Heathcock, Mike Jackson, Charlton Jimerson, Bob Knepper, Mike Lamb, Jason Lane, Doug Mansolino, Tony McKnight, David Meads, Louie Meadows, James Mouton, Roy Oswalt, Ross Powell, J.R. Richard, Mark Saccomanno, Billy Smith, Russ Springer, Brent Strom, Strech Suba, Carl Warwick, Bob Watson, Jimmy Wynn, Eric Yelding and Gerald Young.