Chris Young smokes the competition with gift to Anaheim Fire & Rescue, Costa Mesa Fire Dept.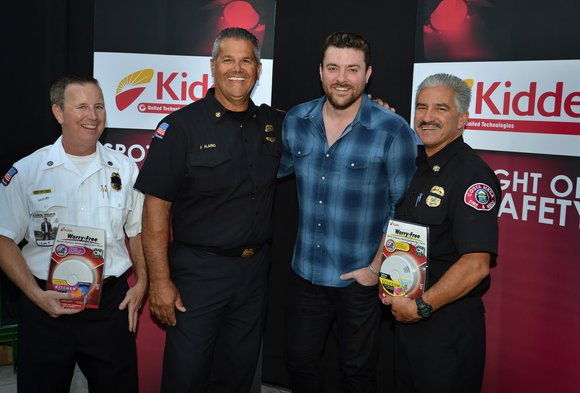 By Greg Hardesty
He remembers as a kid when his mom set off a smoke alarm in their Tennessee home while cooking chicken.
"She's going to kill me for telling you that," country music star Chris Young said.
More recently, Young's tour bus caught on fire after he and his band performed at a small venue in North Carolina.
Luckily, one of Young's crewmembers was able to douse the blaze with a fire extinguisher.
With his latest hit, "I'm Comin' Over," sizzling up the country music charts, Young spent 15 minutes before his concert at the Pacific Amphitheater in Costa Mesa on Thursday connecting backstage with command staff of Anaheim Fire & Rescue and the Costa Mesa Fire Department.
In a partnership with smoke alarm manufacturer Kidde United Technologies, Young donated hundreds of smoke alarms to AF&R and the Costa Mesa FD — which prompted his stories about close calls with fires.
Young, 30, a Grammy Award-nominated artist whose hits include "Save Water, Drink Beer," "Lonely Eyes" and "Aw Naw," also explained that the Kidde partnership was inspired, in part, by a close childhood friend who recently became a firefighter in Tennessee.
Young said he helped support his friend, nicknamed Bubba, through the fire academy — and said country music and the fire service go together like mandolins and lyrics about cheating hearts.
"There's definitely a connection there," Young said backstage.
Anaheim Fire & Rescue Deputy Chief Jeff Alario and Fire Marshal Jeff Lutz were on hand to thank Young for the smoke alarm donation, along with Fred Seguin, Deputy Chief of the Costa Mesa Fire Department.
"Anytime someone helps us do our job better and helps make our community safer is great," Alario said of Young's partnership with Kidde.
Read the full story at behindthebadgeoc.com